Posted on | April 20, 2012
To continue this month's theme on stress awareness, I want to share 7 tips to help you reduce stress at work now.  Job-related stress is common for many people but can be quite counter-productive, leads to unhappiness at work, and be detrimental to your health.  The fact you are reading this post means you want to reduce stress and are aware of the consequences of stress on your work and well-being.  This is good news as managing stress has to start with awareness.
It is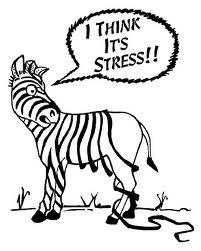 very possible to reduce stress.  After 15 years of trying to figuring this out for myself, here are 7 tips I recommend you can do at work and after work to reduce stress.
How to Reduce Stress at Work – 5 Tips : The key to reducing stress at work is by proactively managing your work load and directly address the source of your stress.  Many times, we overly stress because we have too much work, complicated work, or work where results are outside our control.    Here are 5 ways to be proactive and alleviate stress early before it spirals.
Prioritize and negotiate - Not all work are equally urgent.  It only seem so when we are stressed.  Take a step back, make a list of all the work you have to do and prioritize them based on EXTERNAL deadlines and what is critical to the business.  If you do this, you will realize that perhaps only 50% must be done this week and the other half can be pushed.  For those that you decide to push, communicate or negotiate your decision to affected parties including your boss.  The stress is only reduced when the new priorities you propose is agreed by all stakeholders.
Practice saying no tactfully to additional work - Many of us want to be liked at work.  So even when we are stressed and a senior person asks us to do one more thing, we tend to say yes.  STOP doing this!  When you are already overstretched, saying yes to one more thing will lower the quality of your work and will aggravate your stress.  You can learn how to say no at work gracefully – something like " I would love to help with this.  Right now, I am under a tight deadline to do x,y,z, can I help you with this in two weeks?"  or  "I would love to help with this.  If this is critical, is there something else on my plate I can push out?  I want to make sure I provide you the highest quality of work."
Communicate and let go of what your cannot control - Often times, stress occurs when we worry about the results of the work that is outside our control.  In this case, realize that you CANNOT control the outcome completely and it's okay.  Instead what you can do is communicate what you observed and the risk it has on the outcome to relevant parties – your boss or other stakeholders.  The key is NOT to point fingers but inform relevant people that you see this risk and here is what you are doing to mitigate it and here is what they may need to do to help you mitigate.  Beyond that, you have to let go and let the chips fall where they may.
Get help and advice – If you have trouble with the first 3 tips above, find someone to help.  It could be your boss if you have a good relationship and feel comfortable asking for advice.  It could be a mentor at work or outside of work – anyone who can give you sound, objective advice and have your interest at heart.
Time-box your work - Work will never end if we let it until we die.  Don't make work your only priority in life.  Set boundaries and have non-work priorities as well.  When you do, you will then find ways to get the work done in the time box allocated more or less.  People are also more likely to respect your boundaries if you respect it yourself.
How to Reduce Stress – Outside of Work – 2 Tips - While stress may be related to work, we also carry it home and even in our sleep when we over-stress.  There is a marked physical reaction to stress – shorter breath or even holding our breaths at times, darting of thoughts, quickening of heart beats, insomnia, and a general tension / nervousness in the body.  Any pro-longed stress in this state physically and mentally can make us more prone to disease as we get older.  So here is what you can do outside of work to reduce stress.
Sweat it Out - Do at least 30 minutes of some kind of cardio exercise 3 times a week.  Anything that makes you sweating buckets.  You may say, I am already stressed – I don't have time to work out.  Well, believe me, you need the break.  Throwing all your free time to work to relieve stress is an instinctual response that DOES NOT WORK.   You need the break to think clearly.  Choose the cardio exercise that work for you.
Participate in a Creative Outlet - once a week for at least an hour.  Again this feels counter-intuitive as stressed outl people never seem to think there is time for anything fun.  This idea however is instrumental to reducing your stress at work.   A creative outlet is an activity you enjoy (e.g, competitive sports or salsa dancing) where your right brain completely dominates.  A creative outlet can relieve the mental symptoms of stress – the constant working of the left brain 24/7 even in sleep.  We cannot be our best if we make our left brain work all the time.  This way your left brain – the one used for work – is allow to rest completely.  Note: Watching TV is NOT a creative outlet as many of us just suppress the stress into our subconscious while we watch TV.
At the end of the day, the key to reducing stress is to be proactive and try these tips to address stress head on.  It may not feel comfortable at first, but stress is NOT comfortable either.  We sometimes just deal with it thinking we have no choice.  Stress will happen at work.  There is no way to prevent it completely.  If you address it early, however, you will have a better chance at being productive, happy, and on top of your game.   Good luck at your work!
Like this post?  Then help me share it on Google+, Linkedin, Twitter and elsewhere.  For more advice to support your career success, sign up below for my email newsletter – How to Succeed like an Executive – learn practical tips for developing your soft skills (like stress management and people skills) and apply them immediately at work
Your comments: What is your challenge in managing stress?   I look forward to your comments below.  Thanks.  I am always in your corner.
Lei
Comments