Sometimes what seems like a great idea when you start on a career path can end up being a disappointment when you end up in a job that is not the kind of life you imagined or worse, unemployed. Unfortunately, this is fairly common. According to a report last year, "53% of recent college grads [In the US] are jobless or underemployed." Even many who do have a full time job are working outside their degree's intended career path. This can be very disheartening, especially for those who have gone into considerable debt and spent much time and effort getting their degree.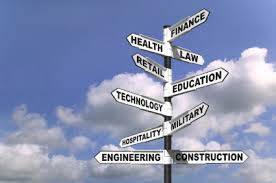 If you find you can't change what bothers you about the career you are in, it may be time for a bold career move. Changing careers for easier marketability or to find a job you are happier working in can seem like a daunting task, especially if you feel your college credits or job history don't carry over well into other fields that interest you.  Here is how to change careers effectively off the beaten path and be happier with yourself, work, and life.
Tip 1: Re-frame Your Skills
You probably are not going to hit the top of the ladder in a different field right away and you may not even make it close to a lateral move, but that doesn't mean you have to start over completely either.
Start by writing down a list of all your strengths and skills whether you have developed them within or outside your current career. Then frame your strengths in a more neutral manner – re-word things so they are not oriented toward your current career. Think of the kinds of skills that make you useful in any job. This will help you network yourself a little more flexibly.
Tip 2: Reach Out Broadly
Many successful people can be found online these days. This means it is easier than ever to reach out to professionals of all kinds, whether through email, LinkedIn, or even Twitter. You don't have to worry about speaking on the phone, you can choose your words wisely and present yourself well, and you are more likely to get a response since people can get to you when it is most convenient for them.
Make one on one contact with a broad range of people in widely varying careers. If you have not heard of the type of jobs you come across, look into them and ask questions of people doing them. Many people will be happy to share what they like and do not like about their work and how their path took them to where they are. Even if you reach out to someone who cannot help you they may very well point you to someone who can. 

Chances are good you know someone or can easily make contact with someone who did not take the straight and narrow path to success. Learn their stories and get inspired.  Not every story will be necessarily sound like a great success, but there is always something to be learned from the unique career experiences people have.
Tip 3: Dabble
When you begin to find an affinity for a certain type of career, adjust your professional profile so that it is more marketed toward that field. Present the skills that are most useful and explain how your experience makes you valuable in that setting. Make sure you do not present yourself to a potential employer in a different field of work such that it sounds like you are trying to get rescued from a sinking ship. You do not want to seem like a gamble to a potential employer, so keep things focused on why you are valuable and show enthusiasm for the type of work you want to step into.
Most people who have significant career experience in life also have obligations between debts, family and life in general. You may not be able to jump into a complete change of careers, but it is ok to dip your toes a bit. Seek to create some flexibility in your schedule and then look at "foot in the door" type options. Consider moonlighting part time, freelancing to build a portfolio on your own time, interning, or volunteering. If you can get a foot in the door, find someone who is where you would like to be and seek their advice.
Part time schooling is also a viable option – whether online, on campus, or some mixture thereof. Community college and short, industry specific courses can also provide a path into various fields that are less often considered. There is an undeserved stigma around community college and jobs that require a short course of study and certification. For example, careers in real estate, commercial driving, dental hygiene, culinary arts, x-ray technology, etc. are often lucrative and a great fit for different personalities. Such paths are often eschewed simply because they do not require a four year degree, masters, doctorate, or Ivy League education.
Tip 4: Look for Fast-Growing Companies
Companies that are fast-growing will likely provide the best opportunity for making a career cross-over. They will have a need for smart, motivated, and enthusiastic personnel and to some degree, this may overshadow a need for specific skills from previous experience.  And if you believe in the company's mission, it might be a great opportunity to carve out a home in a lesser-known field.
Whatever your situation, whether your job doesn't pay enough, you can't find work, or you're just not happy in your career, there are plenty of good options to get back on track. There seems to be a general misconception that there is only one good route to career success. In reality, there are great careers out there that don't involve a traditional approach. You may also be surprised at how well your experience can help you succeed in another field. Rather than losing heart and feeling like you are at the bottom of another mountain, consider all the fields that may play to your strengths and fulfill you as a person.
Your comments: Have these tips helped you?  What other ways have you used to change careers?  Share your comments below
Guest Author: Hank Barton is  a trucker and a writer in pursuit of making a career path on roads less traveled.  When he finds time, he writes for E-Gears, an online CDL Test authority that specializes in a variety of study guides.
This is a Guest post.  If you would like to submit a guest post to BeMyCareerCoach.com, please follow these guest post guidelines.