It is hard work to look for a job or to take our careers to the next level.  Often we have to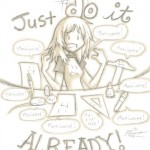 learn new skills and conquer new challenges in order to make progress.   This is much easier said than done.  We are all creatures of comfort and doing anything new can often invoke confusion or self-doubt.
I don't know about you, but whenever I need to do something challenging,  my mind is immediately filled first with what-ifs and I use them as excuses to procrastinate:  What if I don't know how to do it?   What if I never get there?  What if "they" think it's stupid?  What if ….?  You get the idea.
For example, I have been meaning to transfer this blog from the blogger platform to a self-hosted wordpress platform for 3 months now. I have researched  and decided 3 months ago it was a good idea, but my what-ifs kept me from doing anything.  I told myself, I didn't have time.   I scared myself and said what if I don't do it right and I lose all the content I already built, etc…
What about you? Is there something you have been wanting to do for your career or job search?  Perhaps it's a new contact you want to cold call, a conversation you want to have with a friend to ask for help,or  a new plan for your career that you want to put in motion.  Are you stopped by your "what-ifs?"
Here are some tips on how to not be stopped and take more action for your job search and career
Accept that what-ifs will always pop up: In all my 12 years of business experience, I have faced many challenges in different roles, industries, and countries.  Every time,what-ifs are always the first things to pop up and try to stop me.  They unfortunately don't go away with practice or experience.  So don't try to get rid of them.  The key is remembering how to deal with them.
Ignore the what-ifs:  Just because we have what-ifs in our head does not mean we have to let them incapacitate us.  It is we who make the what-ifs mean something real.  What-ifs ARE NOT REAL. They are imagined by our insecurities and we have every power to ignore them.
Tell others what you will do or are doing: this will help you be more accountable.   Many times we procrastinate on things regarding our job search or career because no one else knows about what we are hoping to do.  So share with friends the new challenges you plan to take on and then it becomes an implied commitment.  I started telling friends at the beginning of this year that my number one priority was to migrate my blog by end of January.   I used that as part of my motivation to act.
Just start doing it: Don't make a big deal about it, just start doing something, anything that make progress.  Once you start, you will be so sucked into the process of learning, that all you want to do is keep going. Then it's easier to ignore what-ifs and concentrate all your mental energy on the task at hand.
Think of all the new possibilities: The great news is once you start doing something, many of your what-ifs will be proven wrong and disappear.  Your mind will finally be unburdened and focused on reality.  You can claim a new skill and be open and ready for new challenges ahead.
These tips are as much a reminder for me as they are advice for you.  With the new year, I decided to start working on transferring my blog to wordpress.  I took my own advice and started telling friends that I will work on this.  I have been heads down in it for the last two weeks.  It was exciting but not all easy.  I was confused and frustrated at times but I pushed through.  I learned a new skill and many new possibilities are now opening up for me.  Welcome to my new site!  There are probably still some kinks in it, but I am glad I took action and am now riding the momentum to already work on my next challenge – learning SEO.
Whatever you want to do next for your job search or career, it's time to act.  You will really feel good once you get started and I know you can do it!   I look forward to hearing your stories.  Good luck out there.
– Lei