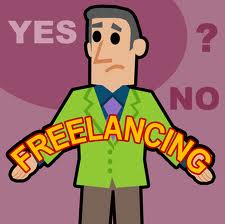 These days, more and more people are jumping onto the freelance bandwagon. A recent CreditDonkey report showed that 14 million American workers – one in nine – are self-employed. Of those, about 2.4 million are contract (freelance) workers, rather than small business owners.
Although many of these freelancers are older workers leveraging their decades of experience, many are also just starting their careers. But no matter which end of the spectrum you might be at, you need to ask yourself eight hard questions to determine if freelancing is really the right choice for you before jumping in headlong.
1. Do you have some backup money on hand?
This is, perhaps, the biggest question that will tell you whether or not you're ready to freelance. If you have absolutely no cash on hand, freelancing might be out of the question. Even if you have tons of experience and connections in your field, it takes time to build an income as a freelancer.
If you answer no to this question, you could begin your freelance career on the side while working your full-time job, and quit your day job when your income gets to a certain level.
2. Do you have self-discipline?
Good freelancers are driven by self-discipline and internal motivation, not by expected working hours and a boss hovering over their shoulders. Yes, you'll work with clients, and meetings and deadlines can be motivating. But if you don't have the basic self-discipline to get work done on your own, you'll find yourself constantly feeling stressed and swamped by deadlines and client demands.
3. Do you work well at odd hours?
Many successful freelancers keep regular office hours during which they work, but the best freelancers are flexible within this schedule. Plus, freelancing can often be a boom-or-bust business. During the times when you have a lot of work, you may have to work weekends, mornings, or evenings more than you'd like. When you don't have a ton of work on your plate, you might find yourself with a great deal of time on your hands.
4. Do you have friends and socialize outside of work?
Even if you consider yourself an introvert, you need to socialize on some level. All human beings do. If all your current socialization comes from water cooler conversations at the office, you may not be ready to give that up just yet.
Before you freelance, you'll want to have a support network of some sort – whether that's a group of non-work friends (or work friends that you'll continue to hang out with), your family, or a bowling league. That way, you can talk with others and blow off steam when you need to.
5. Do you know what you're good at?
Freelancing definitely requires a specific set of skills to be successful. While there are tons of different areas in which you can freelance – from IT to accounting to writing to designing – you do need to have that skill set before you can start freelancing. In fact, the more experience and expertise you have, the easier it will be for you to start an actual career as a freelancer.
6. Do you know anything about bookkeeping and other basic business skills?
If you know absolutely nothing about basic business skills like invoicing and bookkeeping, learn it before you freelance. (Hint: if your personal finances are a tangled mess, you probably don't know as much as you should.) As a freelancer, you'll basically be running a small business of one. This means keeping track of business expenses, paying quarterly taxes, invoicing clients, and more.
There are some great programs out there to help you, but you should learn about these programs and skills before you take the plunge.
7. Do you know how to market yourself?
One thing people don't realize about freelancing is it requires a great deal of marketing. Again, you're essentially running a small business, and small business owners spend lots of time and money marketing their businesses. In fact, some experts says that business owners should spend at least 20% of their time marketing.
If you don't know how to market yourself – or if you loathe the thought – you may be better off just working for someone else who does the marketing for you. It will probably be a while – if ever – before you can expect to hire someone to do the marketing for you. So if you're going to freelance, get ready to market.
8. Do you know how to deal with customers?
Oftentimes, people think freelancers spend absolutely no time connecting with people. But, in fact, people skills are more important for freelancers than for most office workers – primarily from a marketing standpoint.
Sure, as a freelancer, you get to be your own boss, but your income is at the mercy of your clients and customers. So if you can't deal with them properly – in a way that makes them want to use your services over and over again – you should probably not get into freelancing.
If you answered yes to most of these questions, you may be ready to freelance. If not, examine your areas of weakness, and figure out what you can do to improve before you launch into the wonderful – if sometimes stressful – world of freelancing.
Your comments:  What else do you want to know about freelancing?  Share your comments below
Guest Author: Cassy Parker is a social media advocate at CreditDonkey, where she helps freelancers evaluate business credit card offers.
If you would like to submit an article to www.BeMyCareerCoach.com, please follow these guest post guidelines.