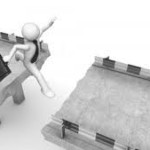 How to explain gaps in my resume?  This is a common question asked by many job seekers today.   When the economy went south in 2009, many well-qualified people found themselves out of work.  Some were able to land another position within a few months, while others struggled to find work for a much longer period — or never really made it back into the workforce. Other people have opted to leave their jobs for family or educational reasons, and now want to return to the working world. No matter which situation applies to you, the effect is the same: significant gaps in the work history section of your resumes.
While some employers may understand that qualified applicants may not have a seamless employment history given the recent economy, they will still ask questions about the times that you were out of work. While in the past such a gap might have taken you out of the running altogether, how you explain the gaps in your resume now can make a significant difference to your candidacy for a job.  Here are 3 tips to effectively explain gaps in your resume
Tip #1: Honesty is the Best Policy
First and foremost, when asked about anything on your resume, be honest and upfront. Avoid elaborate excuses or lies; eventually, your untruths will be discovered and if you got the job, you might be facing another employment history gap.
When asked to explain the gaps in your resume, tell the interviewer that you were laid off for economic reasons — and deflect further questioning by going into detail about how you filled your time while you were out of work.  If you were fired be diplomatic but honest in your response, and explain what you learned from the experience and how you've corrected the issues that lead to your dismissal. For example "I was let go because I lacked some communication skills, but since then I've begun working toward an online masters degree in human resources and have taken every opportunities to speak in my virtual class, interact with my classmates to improve my skills.  I even joined ToastMasters in my area to hone my public speaking skills."
Tip #2:  Turn Lemons into Lemonade
The fact that you have not worked in a traditional setting for several months — or even years — does not have to be detrimental to your ability to land a job. If you can show that you used your period of unemployment effectively, such as developing your skills and experience by working for free, you'll impress the interviewer.
When discussing the gaps in your resume, point out what you did in the meantime. "When my previous employer consolidated their operations and closed the local office, I was laid off; however, since then, I have devoted my time to developing my skills and talents by volunteering and working as a consultant. I've also started working on a masters degree.  Management is always changing and I've stayed on top of those changes through my coursework." Such a response indicates that you didn't spend several months watching soaps and eating ice cream, but instead kept your skills fresh while staying on top of developments in the industry.
Tip #3: Avoid the Question Altogether
The best way to avoid having gaps in your resume hurt you in an interview? Avoid the question of gaps altogether. If your period of unemployment was short — just a few weeks or months — use only the years to show how long you were with the company; for example, if you worked at one company from June of 2003 to April of 2004, and then started a new job in August of 2004, simply put 2003-2004 and then 2004 to present.
If you're still unemployed, list the ways that you have used your time since leaving your last position.  If you've done freelance or consulting work, indicate that by listing "consultant" and the dates, and provide a short description of the work that you have done and for whom. If you've been in school, put your degree dates on the resume and mention in your cover letter that you've been seeking an advanced degree.
Turning your periods of unemployment into a positive attribute takes a little finesse, but preparing your answers before the interview will prevent you from stumbling over questions about gaps in your resume. Design your resume to highlight your skills and achievements, stay on top of the developments in your field and prepare a response that shows your enthusiasm and capabilities, and soon your time in the employment line will come to an end.
Your comments:  What other ways have you used to explain the gaps in your resume?  Share your comments below and feel free to ask more questions
Guest Author:  Mary Jane Russo has worked in HR for five years and has a Masters in Human Resources. She now manages a career counseling and job placement service, focusing on displaced and returning workers.

This is a Guest post. If you would like to submit a guest post to BeMyCareerCoach.com, please follow these guest post guidelines.