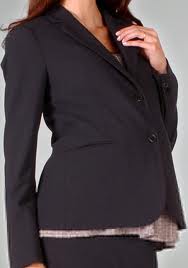 Should I interview while pregnant?  The answer is Yes, absolutely.   I am learning this first hand as I am 6 months pregnant with my second child and currently in between consulting contracts.  You may say, no one will hire me while I am pregnant, so why bother.   I had the same perspective at first but am finding real benefits in looking for a job while pregnant.
It is true companies are less likely to hire us if they know we are pregnant.  Legally (at least in the US) they can never say that, but that is the reality of business.  With that said, this fact should not stop us from job hunting and interviewing with the same vigor while pregnant.
Here is how you can  job search while pregnant and make the most of this wonderful time of your life also for your career.  My suggestions are based on two financial scenarios
Scenario 1 – if you financially need/want to get a job while pregnant, here are two things your can do to maximize your chances.
Apply for short contract jobs  (3 – 6 months) – Do this early in your pregnancy.  I would not tell the company you are pregnant.  Legally, they can never ask even if they suspect.   Since the contract is short term, you will be done before you deliver.  So focus on getting the job and doing it well.    Also broaden your horizon on what kind of contract jobs you would take.   If you are number 1 goal is to work while pregnant, your best chance is to apply for these shorter contract jobs and be flexible to take lower rates so that you can get the work quickly.
Apply for a permanent job early in your pregnancy – Again, since companies cannot ask if you are pregnant, you don't need to tell them when interviewing and can try your best with the right clothing to look not pregnant.  One of my friends did this successfully and got a full time job when she was almost 5 months pregnant.  She is very qualified for the job, but there are consequences to this approach.  In addition to you feeling bad about not disclosing you are pregnant, the company may not react favorably after you start showing.  Again they cannot legally fire you for being pregnant or for not telling them, but they may feel deceived and therefore find other reasons to lay you off.  You have to ask yourself if this is the risk you are willing to take.
Scenario 2 – if you are okay with not finding work while pregnant, you should still job search and interview while pregnant.  Here is how and why
Apply to jobs just like you would when you are not pregnant – Send in resume, network for jobs and make sure you don't devalue yourself just because you are pregnant.  Pregnancy is temporary and does not affect your abilities long term.  Don't sell yourself short and focus your applications on your skills.   When applying for a job, there is no need to tell people you are pregnant.
When interviewing, disclose that you are pregnant at the interview – I received an invitation to interview 3.5 months after I applied and I was 24 weeks pregnant by then.  I debated whether to email them and say "I am pregnant, do you still want to interview me?"  I am glad my friend talked me out of it and she was right.   Interviewing while pregnant is an opportunity for you to leave a positive impression face to face and build a long term relationship.  The fact a company wants to interview you says they like your skills.    During the interview, you can disclose your pregnancy and express interest in working for them.   They may not offer you a job right then, but if the interview goes well, you can easily contact them after giving birth to reconnect and explore job opportunities.  This way, you have an advantage over others who  just send in resumes.  Since they already interviewed you, you may be able to fast track to a job offer after delivery.
Conduct information interviews while pregnant – In addition to applying for actual job openings, you can take the time while pregnant to look around and pick some 5-8 companies you really would like to work for after delivery.   Then use your network (school, friends, ex-colleagues) to find someone in the department you want to work and set up information interviews.  The intention is to find out more about the company and the department, share why you want to work there and why you are qualified, and establish a warm contact while pregnant.  The person I interviewed with just last week told me that's exactly what she did.  She is now SVP at a major bank.  She said when she was 8 months pregnant, she was still doing informational interviews.  It showed the companies that she is focused and serious.  She was able to leave a good impression and fast track her job search post delivery.
Pregnancy is a beautiful time of our life.  I strongly believe we can appreciate this special time and do effective job search at the same time.
Your Comments:  What has been your experience with job search while pregnancy?  Any additional thoughts on what to do or not to do?
Lei