Business networking is essential to your job success as well as during any of your job search.
For job seekers,

we all know that the best job openings are those that we can find through our network before it hits the open market.  So the stronger your network the more likely you will come across hidden gems in job opportunities.

If you already have a job

, then networking can help you find a good mentor, land the next customer, find a good vendor, establish a beneficial partnership, etc..
So whether you have a job or not, you should be constantly expanding and building your network so you can tap into it to support your career success.   While most of you probably know networking is important, few actually know how to network well.   In my blog, you can read about the 5 business networking tips anyone can follow to give you some specific tips.  In this article, I want to share 1 simple rule that can help you network well no matter what your situation is.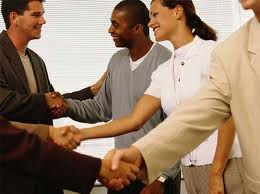 I learned this rule from a friend who has over 20 years of sales experience.  It's his job to know how to network well.  When he told me this rule in 4 little words, I was quite surprised how simple and yet profound it is.   Before every networking event, remind yourself of these 4 words and you can stay focused and network well.  The one simple rule to networking well anywhere is: Be Interesting and Interested.   Here is what it means
Be Interesting:

No one wants to talk to a boring person.  We have all been in conversations with people at networking events where they only talk about things that we have no interest in.  The key to being interesting is listening, having knowledge of a variety of topics, and then figuring out which one interest the person you are speaking with the most.  This way, you create a stimulating conversation and leave an impression.  At a networking event, everyone meet so many people.  Most people are forgettable or seem very similar to each other.  If you were interesting to the person you spoke with, then you will be remembered with fondness.  That's your objective.   What you talk about may have nothing to do with business or your networkin objective – it could be about sports, music, politics, business, etc… Your sole purpose is to build a connection with the person you speak with so that this person will later be willing to talk to you some more – perhaps about a business opportunity or a job opportunity.

Be Interested:

 Being interesting is not enough still.  We have also talk to people that are interesting but spends all the time talking and never ask you to join the conversation. Another part of building relationships and leaving a positive impression is showing interest in the person you speak with – their experience, opinion, etc…  All people want to feel valued.   If you are interested in what the person you are speaking with says, they will feel valuable and good about themselves.   This is another part of the equation in opening the door in adding this person to your network.
Ultimately, this rule works because anyone who finds you interesting and thought you were interested in what they have to say will have a good impression of you.  It is that good impression that will open doors for you to make a reasonable request to build the relationship further – a lunch, an info interview, or even a business meeting.  Best wishes in your career success
Your comments: What do you think of this one simple rule?  Add your comments below and let's have a discussion.
– Lei