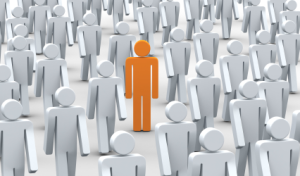 Human resources departments are inundated with resumes. Moreover, resume screening software can easily reject your resume based on the omission of a key word. Even when your background is perfectly suited for the position, hiring managers may not always understand your unique ability to add value that facilitates the company's mission. So, how do you get noticed?  Follow these five-point job search strategy to differentiates you in the resume and interview screening process as the best candidate.
Strategy #1: Solve a Problem
Employers hire candidates because they have a problem and they believe the candidate can solve it. Doing your job and solving a problem are similar but markedly different. You must be an innovative, forward-thinking team member that improves the status quo by cutting costs, making money, increasing efficiency, getting clients, etc.   For example, in your resume, highlight results you have achieved to demonstrate how you have helped past employers solve a problem.  When preparing for an interview, think of specific examples in your life that you have had that demonstrate these qualities you are trying to convey.
Strategy #2: Put Aside Your Degree
Careers are not determined by college degrees.  Work experience at internships are more important. Many companies are more willing to hire interns than you may think.   An internship is a great opportunity for both the employer and the intern because it give the company cheap or sometimes even free work that they would otherwise have to pay a lot more money to a trained professional.   And it gives the intern valuable real life experience that they may not otherwise be able to get.  A tip to find an internship is to go to a company that you think would be able to offer you the valuable experience you want and propose to them that you intern for them for a reduced rate or for free and you will be on your way to gaining meaningful, real life experience.
Strategy #3: Become an Expert
Do you have specialized training in your field? Credentialed job seekers earn more money. Certification is a true stand-out factor. It has been said that if you can spend over 10,000 hours doing something efficiently then you can become an expert at it. Things like this take time, so be patient and enjoy the experience. It is important to know that no one was born an expert. Everyone must take the necessary time and energy that is required to become an expert. So enjoy the experience. Look for ways to always improve on the skill you are developing and before you know it you will be an expert.
Strategy #4: Become a Sales Person with a Marketing Plan
The book "How to Land Your Dream Job" by author Jeffrey J. Fox is considered a career Bible by executive recruiting firms. Its message is simple: Job candidates must sell themselves like a top sales person sells a product. A sales person targets his customers and analyzes every minute detail concerning their operations. Armed with information, he creates a marketing plan that includes sending a detailed sales letter – not a resume – directly to his customer (hiring manager). One tip to do this is to tailor your resume to every employer you want to work for. Highlight and align you skills with those that the employer are looking for. You have to find things to set you apart from all of the other people that are applying for the same position as you. By taking these small steps you will make yourself stand out from the competition.
Strategy #5: Master the Interview Process
Interviews affect hiring decisions.  Good job candidates can unwittingly make bad interview mistakes. Read the book "Boost Your Interview I.Q." by Carole Martin and learn to think like an interviewer, not an interviewee. The interview process can be a strange time for everyone. It is important to highlight your strengths and why you think you would be a great candidate for the position.  Above all, practice, practice, practice.  The more your prepare for both common questions as well as how to answer unexpected questions, the better you can represent your best qualification in the interview.
When you understand the qualities employers seek, you gain leverage. As the exceptional candidate, you embrace the challenges and rewards of standing out. Follow these simple steps and get hired.
Your comments: Was this article helpful?  What other strategies have you used to stand out? add your comments below
Like this post? then help me out and share it on Google+, Twitter, Linkedin, Facebook, Email, etc…
Guest Author: Rianne Hunter is a happily married mother of three and writes for Fastaff Nursing.
This is a Guest post with edits by Lei Han in Italics.  If you would like to submit a guest post to www.BeMyCareerCoach.com, please follow these guest post guidelines.