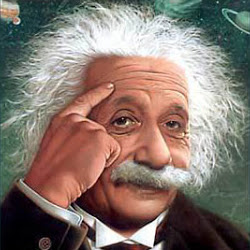 Albert Einstein once said,
"Three rules of work:
Out of clutter find simplicity;
From discord find harmony; 
In the middle of difficulty lies opportunity."   
My husband shared this quote with me this morning.  While it seems so simple, there is so much wisdom in it.  Here is what each rule means to me:
Rule #1: Out of clutter find simplicity
This quote reminds me of my volunteer experience with Dr. Pete at his Zone Healing Center.  I have volunteered there for 4 years now as his office manager, working only 1-2 hour per week.
His whole office operation is the epitome of keeping it simple:
We have patient forms and history (date visited, zone, payment only) all filed on paper in the office;
We have 4 volunteers that work to check in patients; they work each day he works;
We keep contact info for 1000+ patients in Google docs;
We put future schedules on paper for him to take home;
He sends out receipts by email to patients who request them.
That's it.  It's bare bones but it works beautifully. From this experience, I have learned that just because we can digitize the process, or make it more perfect doesn't mean we have to in order to have an effective system.  I tend to complicate my life a lot by overdoing things.  This experience with Dr. Pete is a constant reminder to do only what's necessary to get the job done.
Ask Yourself:   How are you spending your time these days?  Make a list of all the things you are doing and what you are trying to achieve, then figure out the simplest, fastest way to achieve a good result. Most people can't distinguish good from best, so don't waste your time complicating things by trying to get the best results.
Rule #2: From discord find harmony
Discord can happen often at work.  What is our first instinct when someone disagrees with us at work?  I don't know about you, but my first instinct is to prove them wrong.  It comes from my Chinese and/or competitive upbringing.
For the last 10 years, I have been learning to not follow my first instinct. Trying to prove that you are right is a win-lose situation that almost always negatively affects your working relationship with that person. Instead, I try to listen without judgment, make an effort to understand the other person's point of view, and find some common ground to move forward.
I have learned that when I try to find harmony when there is discord, big issues can dissolve into small issues quickly. It also helps me build lasting relationships that can support my career success.
Practice:  Next time you find yourself in disagreement with someone, listen, stay calm, and find a win-win way to resolve it.  Will you do it?
Rule #3: In the middle of difficulty lies opportunity
In the face of difficulty (such as being laid off, not getting a promotion we expected, getting back-stabbed at work), we have two choices:
Complain about our fate and find fault either in ourselves and/or others, or
Accept that things can happen outside of our control and look for the positive.
Which one would you choose?  I recommend #2, as you can feel empowered to make changes and move forward.  I believe that this is what Einstein was trying to convey.
Two years ago, around Christmas time, my husband was laid off unexpectedly. We went to his company Christmas party on a Thursday, and he got the pink slip on Friday; his boss didn't even have the decency to be present when he left. I was also not working at the time. At first, we were pretty angry, but soon decided to just move forward. My husband had been unhappy at his job for at least six months, anyway.
We took a vacation in early January to Miami to recharge, and then he started networking for a job as soon as he got back. By early February, he unexpectedly came across a start-up opportunity while speaking to a recruiter about a corporate job. Keeping an open mind, he decided to interview with this start-up. He loved the executive team, and he got the job! While the pay was lower than the corporate opportunity, it was a great fit for him — a place to learn and make a difference. He is still loving his job today.
Looking back, we realized that the layoff was a blessing in disguise.  He would not have quit since I wasn't working at the time. By being laid off, life actually gave us the courage to move forward instead of playing it safe and gave him an opportunity to move on to bigger things with opportunities to grow.  All kinds of doors opened for his career since then.  This is just one example, but it just shows that when one door closes to you unexpectedly, many doors and windows can open up if you can look at the incident as an opportunity.
Practice:  Have you experienced something difficult at work or in life recently?  If so, ask yourself, "what opportunity can I gain from this?"  Be patient and persistent.  There is an answer to this question.  You always have the power to open doors to a better career, life, and world.  Best wishes!
Your comments: What do you think of this quote from Albert Einstein?  Do you apply it at work?  Add your comments and questions below.  Let's have a discussion.
Like this post? Share on Linkedin, Email, Twitter, Facebook, Google +, etc.
I am always in your corner.
– Lei