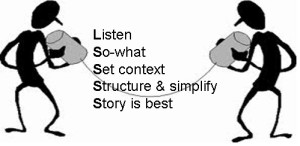 Communication skills are some of the most critical soft skills for achieving career success during a job search or in the workplace.  Improving your communication skills is a huge task, since business communication encompasses verbal and written exchanges, formal and informal styles of communication, along with one-on-one discussions and group talks. Obviously, then, this article is just a starting point.
After 15 years of developing my own business communication skills, I've learned five simple tips that are critical to any form of business communication. If you start implementing any of these tips tomorrow, you will improve your communication skills.
Listen – If you want others to listen to you, you must start by listening to them. We have two ears and one mouth for a reason, and we need to use them in that ratio. It's cliché, but true. Imagine having a brilliant, well articulated solution to the wrong problem, all because you misunderstood what your boss wanted. Most people know in theory to listen. We just need to remember to actually do it. Actively listening is the first step to effective communication.
So-What – I learned this one very early on in my career at McKinsey.  Every slide, every voicemail,  conversation, or email must have a so-what in it.  A so-what is your summary of:

why you are talking or writing to a person or group of people
why they should listen,
what is your conclusion, and
what you want your audience to do as a result of your communication.

You should articulate your "so-what" early on. I was told that if I don't say what I need in the first 10-15 seconds of a voicemail to a manager or partner, he or she will most likely delete it without listening to the rest.  Most people are busy, so when you communicate, know your key points and get to them early.

Set Context – Have you ever called a friend, launched into full detail about something, and a few minutes later they ask, "Wait, back up. I'm lost. What are you talking about?" We have all done it, and we often do this at work. We are so immersed with our work that many times we launch into a business conversation without providing any background or context. Unlike our friends, however, co-workers and bosses don't always tell you that they are lost and don't know what you're talking about. They will either pepper you with frustrating questions based on their own assumptions, or they'll be completely detached and won't hear anything you say. When you set the context, you'll sound much clearer to them. As a rule, default to providing context for what you're talking about. Even if you think they should already know it, don't assume that they remember.
Structure/Simplify – We rarely talk in bullet points, because it's not natural. In business, however, it's important to have structure. Using bullet points is the simplest structure that will help your audience understand you quickly, and they give a marker as to where you are in your communication. Verbally, using bullet points sounds like this: "There are three reasons why we should do x y z. First, xxx. Second, xxx. Lastly…" Two to five bullets is the magic range; McKinsey consultants usually error on the side of three bullets. Most humans cannot remember more than three things at once, anyway. Also, it's important to keep your communication simple — just because you have a lot of detail, doesn't mean you should include everything. It will be too overwhelming, and your listeners will get lost. Keep it simple, and communicate only what you need to support your so-what statements.
Story is Best – This is especially true for presentations and job interviews.  You'll be remembered if you tell a good story, instead of just dull out cold facts and logical reasons. People are inundated with information every day, and it's hard to remember much or stay interested for very long.  Guy Kawasaki, in his book Reality Check, said that your job in a presentation is to entertain, and if they learn something as a result – even better.  Those who tell so tires make people want to listen, and they are remembered for that reason. So, next time you are going to present or need to influence a major decision, ask yourself — "what story am I going to tell?"
These communication skills take time to develop, but what's really important is that you can start today. Imagine having the ability to influence any audience to want to listen and respond to you. We can all do it with practice! After all, practice makes perfect! Of course, you will make mistakes along the way. I have made many myself, but they will also help with the learning process.
Here is a simple communications "workout" to get started
Next time you are in a business conversation, practice these 3 things:
Set context / so what – Clearly share what you would like to achieve with this conversation and why
Structured speaking – Speak in bullets (try 3 or 4) when you have a series of things to communicate.
Listening –  Paraphrase what the other person told you to show you listened.  To learn more about listening, go to Active Listening – 4 Tips to Practice
Your comments:  Which of these 5 tips do you already practice today?   Tell me how you did with the "workout" above?   Add you comments below and let's have a discussion.
Like this post? Help me out by sharing it on Linkedin, Email, Twitter, Facebook, Google+, etc.
I am always in your corner.
– Lei