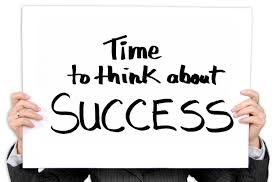 How do you define success?  Take this 2 min quiz and find out.  My definition of success has changed significantly throughout my career.  I think it will still change as I get older and wiser.
This 2 min quiz has two parts.  Here is part 1. Read the following four stories and answer the question below.
Story 1: Sally is a senior sales executive.   She makes close to $500K a year and travels all over the country on business class for work.  Sally loves her job and is recognized for her hard work..  Sally is married with one college-age daughter.
Story 2: Li is 3rd grade Mandarin teacher at a public school.  He makes about $80K a year and gets 2 months off every year to spend with his wife and son.  He is loved by his students and parents alike every year.
Story 3: Joe is a mid level manager at a large company.  He has been there for many years.  He works from 8:30 to 5pm and rarely ever on weekends.   He works with many business partners throughout the company.  He is well supported by his manager and is given many new opportunities to learn and grow.
Story 4: Linda is head of Marketing at a promising start-up.  This is her fourth start-up in three years.  She just hasn't found the right fit, but this one is extremely promising.  The start-up is self-funded and the VP of Sales is a good friend, so she is looking forward to working with her and helping the company grow.
Part 1 Question:  Who do you think is the "most successful?"  and why?  Please write down your answer somewhere before reading part 2.
---
Now, let me tell you more about each of these stories.
Story 1: Sally's daughter Megan just came back from college to live at home.  She couldn't finished college as she has no idea what she wants to do with her life.  Sally and her husband are completely surprised and don't know what to do next for Megan.
Story 2: The principal at Li's school just told Joe he will teach the 4th grade next year as the 4th grade teacher cannot seem to manage the 4th graders this year. Since Li is so good at his job, the principal is hoping he can fix the issue.
Story 3: Joe is single and in his early 40s.  He wants a partner in life but can't seem to find the right woman yet.
Story 4: Linda had to take a 25% paycut but was able to get 1% stock option for her new job.  She is a single mom with two sons.   She loves her job and was surprised to find it also flexible to allow her to pick up her kids every day on time.
Part 2 Question:   Given the new information, will you change your answer? Why or why not?   Please add your comments here
At the end of the day – How do you define success?  Here are some questions to ask yourself.
Does "Success" involve how much money you make or your work title?
Does "Success" involve who you have inspired?
Does "Success" account for whether you love what you do?
Does "Success" mean being married with children?
Does "Success" mean being good parents?
Does "Success" mean having freedom and time?
Does "Success" mean having a summer home or a fancy car?
Does "Success" mean maximizing your potential? and what does that mean?
…..
Your Comments: What is the right answer?  Is there one right answer for how you should define your success? I look forward to your comments.  Here is one answer from Maya Angelou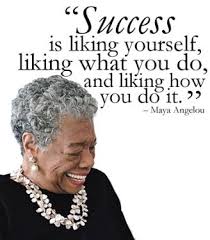 Like this article: then help me share it on Linkedin, Facebook, Twitter, Google+ or by email etc..
New to my site?  Start here: Soft Skills -How to Succeed Like and Executive 
Best wishes to your journey to career success and happiness.