Congratulations to the San Francisco Giants for winning the World Series 2012!!  Today, 1 million fans get together in our great city of San Francisco to celebrate the Giants momentous win.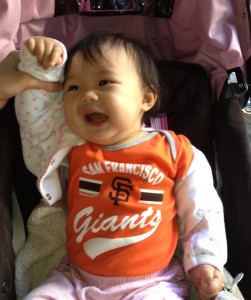 My husband is a huge Giants baseball fan for the last 30 + years and by association, our entire family are big fans as well.   The odds were stacked against the Giants throughout the playoffs, but they persevered.  Why?  Great leadership and teamwork!!
Here are 5 leadership lessons to learn from our beloved SF Giants team and apply to your career.
Leadership is about inspiring others with greater purpose.  If you don't know already, money nor fame do NOT actually motivate anyone.    It is a higher, unselfish purpose that can truly motivate a team to greater performance especially in the face of great challenges.  When the Giants were down 0-2 against Cincinnati Reds facing possible elimination in the next game, Hunter Pence, Giants outfielder, stepped up unexpectedly to give this impromptu speech to the team.  I call this speech "Honor the game and Play for Each Other"

"Get in here, everyone get in here..look into each other eyes..now! 

I want one more day with you, it's the most fun, the best team I have ever been on.  No matter what happens we must not give in, we owe it to each other, play for each other,  I need one more day with you guys, I need to see what Theriot (jerry) will wear tomorrow, I want to play defense behind Vogelsong because he's never been to the playoffs.. Play for each other not yourself, win each moment, win each inning, it's all we have left.  .. Honor the game the game honors you.. Don't know where and when it ends, but tonight I am proud to be together as a team, in a hostile environment, with just us..brothers that play for the name on the front [Giants], not the name on the back[individual last names]."
If you want to lead your team to greatness, then find that large purpose – one that can contribute to others.
Anyone can be a leader, regardless your position.  Don't wait until you are in a formal leadership position to start leading.  You can find opportunities to lead now.  Hunter Pence only joined the Giants team this year.  He is not the coach, nor is he in a formal team leadership position.  He saw an opportunity and had the passion to step up and lead when the Giants team most needed inspiration.  His speech above is considered one of the pivotal reasons for the Giants turn around in the playoffs.    So don't wait, don't hold yourself back.  If you have something meaningful to share, you can lead now from any position
You are never too young to lead.  SF Giants lead catcher is Buster Posey.  I didn't know this until recently, but Catchers in baseball are critical to a game and a team's success.  They are in every pitching play as catchers make pitch calls to the pitchers on the field during play (all those hand signals they give to pitchers indicate the type of pitch).  Catchers are like a critical strategist for the team.  Posey is only 25 years old and has helped the Giants win two World Series (2010 and 2012).  Most pitchers are older than him but he is well respected and always poised.   Posey shows us we are never too young to lead and do it well.
Leadership is also about hiring the right people and creating the right culture.  In 2010, when the Giants assembled this young team together.  Many called this team a group of misfits, but as 3 years have gone by, many are seeing the genius behind Giants recruiting and team development.  While not every team member is a super star, the Giants as a team clicks very well together.  It is because of their love for the game, respect for each other, and ability to have fun and work hard together.  So leadership is not just about making great inspirational speeches at the right time.  Leadership happens also over time and across all the decisions a team makes – starting with how they hire new team members. Beyond the resume or stats of a player, Giants also look for people with the right character to join the team – someone who can continue to foster their collaborative culture.
Leadership is about never giving up.  It is easy to lead when you are winning, but true leadership skills are shown when you are faced with great adversity.  Giants were down 0-2 against Cincinnati and ends up winning 3-2.  Giants were down 1-3 against St Louis and ends up winning 4-3.  Giants then sweep Detroit in the World Series 4-0.  These kinds of results do not happen by accident and did happen against all odds.   So when the going gets tough, keep going and help others along with you.   That's leadership!
It is fitting to conclude with the team's motto – Together We Are Giants!
Comments: If you know the Giants, what other lessons have you learned from this team?  Share your comments below
Lei