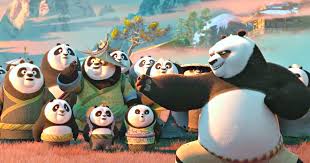 This weekend, our family went to see KungFu Panda 3 and loved it.   It was both entertaining for the kids and educational for us all.   I was amazed at how well the story line conveyed some fundamental leadership lessons while being utterly adorable at the same time.  If you haven't seen it yet, I highly recommend it.
Here are 3 leadership lessons I learned.
Leadership lesson 1: Step outside your comfort zone
Shifu (Panda's master): If you only do what you can do, you'll never be better than what you are.
Po (Panda): But I like who I am!
Shifu: You don't even know who you are!
This was one of my favorite quotes in the movie.  We all love our comfort zones, but that's not where we will develop our leadership skills.  Leadership requires challenging ourselves and be willing to raise our hand for a new role even if we are not sure we can do it.   The more we step outside our comfort zone, the more we can learn about ourselves.  Great leaders are humble and self-aware.
Ask yourself two questions:
Are you doing what you can do today?  If the answer is yes for more than 50% of your job, perhaps it's time to look for new opportunities to challenge yourself in your current job or find a new role
Do you know what kind of a leader you are?  If you quickly said yes.  I would say – reevaluate.   Most great leaders have a growth mindset.  They are constantly learning about themselves and how to become better.    You may already be a good leader, but there is always room to evolve into an even better one.
Leadership lesson 2:  Believe in yourself and be your own type of leader
Shifu: You must take the next step on your journey, from warrior to teacher.
Po: But I'm no good at it!
In this movie, Po was told by his master that he must become the teacher.  Now that he had mastered Kungfu, he needs to learn how to teach others in order to develop his "Qi".  Po resisted and immediately showed how bad he was at teaching by trying to imitate how his master taught.  It was hilarious.  Later on in the movie, he realized he didn't need to teach like his master and adapted his own style.
This is a fundamental and important leadership lesson – to become a good leader, you must
Believe in your ability to lead.  Po had to accept that he must be the teacher and that's when he finally can start learning how to teach.
Develop you own style based on self-awareness and lessons learned from leaders you admire.   As Po showed, just trying to copy another leader's method can never work.  Once Po believed in himself, he then started testing his own teaching methods which worked much better
Leadership lesson 3: Good leadership means helping each of your team members become a better them.
When Po decided that he need to teach the entire Panda village KungFu, he said the following  "I will make you a better you."  As cryptic as it sounds, it really resonated with me.   Leadership is never about making others you lead more like you.    You may have been the rock star team members before, but once you become the leader, your job is to bring out the best performance in each individual you lead
This is what Po means by "I will make you a better you."  He was teaching a bunch of pandas who never practiced kung fu before to be ready for a battle in a matter of days.   Instead of going the traditional route of teaching kung fu, he tapped into each panda's hobbies and adapted them so it can become a way to fight.   This not only motivated the pandas to learn quickly but also made it more familiar and fun for everyone.
This is easier said then done in real life.  To achieve this, a leader needs to
Genuinely care and respect each of the team members they lead
Take time to understand their passions and motivation for work
Truly appreciate what each team members' innate strength are
Be creative in how to utilize their individual strength to make each person even better than who they are today
These three lessons were great reminders for me in my current role.  I hope some of these lessons spoke to you as well.  I am so thankful today's cartoons are not only entertaining but can also deliver great life lessons.
Your comments: What did you think of the movie? Which one of these lessons spoke to you and your current situation?  What do you plan to do next? Add your comments below.
Like this article? Then help me share it on Linkedin, Twitter, Facebook, Google+ etc..
New to My site? Start here – How to Succeed like an executive
Best wishes to your career success and happiness. I am always in your corner.
Lei