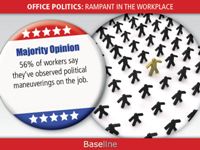 Early in my career, I have been burnt by office politics but not in the way you think.  I didn't feel burnt because someone else sabotaged my job.  On the contrary, I concluded, I burnt myself because I didn't understand or appreciate office politics and the importance of using it fairly and skillfully to protect and build my career advantage.
So my answer is: Yes, you should leverage office politics to further your career as long as it is not intentionally at the expense of others' careers. Office politics usually conveys a negative connotation in pop culture.  However, I believe whenever there is a company with three or more employees, office politics exists.  If you don't understand how to work with it and others do, you can potentially be at a disadvantage in your career.
In Wikipedia, "office politics" is defined as "the use of one's individual or assigned power within an employing organization for the purpose of obtaining advantages beyond one's legitimate authority."
I don't agree for two reasons
It implies unfair advantage at all times but I think office politics will exist even if no one in the office is intentionally trying to manipulate.  This is because each person in the office is a human being with aspirations, insecurities, power of influence, power of position, and personal perspective about others' ability and contribution in the office.  Interaction between people will naturally create politics and fair office politics can exist.
Your role in playing office politics is to influence those in positions of power/influence over your career to perceive favorably about your work and contribution.   This is a legitimate and valuable job skill.  Afterall, perception is reality.  You can further your career using this skill because not everyone understand office politics and knows how to best portray their work and contributions at the right time to the right people.  (stay tuned for a future newsletter article on How to deal with office politics?)
What gives office politics the negative connotation is because we only think of examples of those who play unfair office politics – someone who tries to sabotage other's careers at the same time furthering their own.  I would re-define office politics in 3 bullets
"office politics" should be defined as "the use of one's individual influence skills within an employing organization to protect or obtain advantage in their career."
"fair office politics" by adding to the core definition "without intentionally sabotaging others' jobs / careers"
"unfair office politics" by adding to the core definition "at the expense of others' careers"
Like this post? Then help me share it on Google+, Linkedin, Twitter and elsewhere. For more advice to support your career success, sign up below for my email newsletter – How to Succeed like an Executive

Your comments: What do you think? I look forward to your comments!  Good luck on your job.  I am always in your corner!
Lei