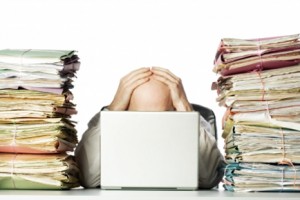 Feeling overwhelmed at work sucks – you feel stressed, tired; your mind is racing with 1000 thoughts but limited clarity; and you can't sleep well at night as your mind is constantly worrying about how to get it all done and what happens if you don't.   Sound familiar?
I know the feeling well.  Being an overachiever and a consultant for 12+ years,  I have experienced intense pressure at work – some real, some self-imposed – and have often felt overwhelmed.    The good news is there are six practical solutions to stop feeling overwhelmed at work quickly.   Some of the solutions may seem counter-intuitive but I know from personal experience that they work.  If you are reading this article, then you have already accomplished the first step – recognizing that you are overwhelmed and need help.   Now, take a deep breathe and gain control again.
Exercise, breathe, think – When we are overwhelmed, our body naturally produces more nervous energy and our brain is almost on over-drive cluttered with worry.  Neither is healthy nor helpful to us as we can reach a point of becoming incapacitated. Our instinct is to rush even more and not stop to eat, think, or exercise.  This is also not productive and can lead to physical and mental burnt out.   

The best way to stop this downward spiral is t

o do a physical exercise for at least 30 minutes (like a run) that will make you sweat and allow your brain to calm and think.   Make the time.  Your body needs to get rid of the nervous energy you have accumulated so you can think at your best and get a good night sleep as well.
Realize your worries are NOT real – Being overwhelmed at work is usually accompanied by excessive worrying about how your career may be affected if the work is not all done.    This kind of worry is unhelpful, unproductive, and for the most part the figment of your imagination based on insecurities.  

Just do the best you can and let the chip fall where they may

.   Focus on taking actions to get the work done.  Once your brain is fully occupied with action, there is no room to worry about imaginary disasters
Distinguish and adjust your own expectations – Many times we are overwhelmed at work and don't realize that we are the cause of it.    This is especially true for over-achievers who puts undue pressure on ourselves to be perfect.  We implicitly form expectations and subconsciously think they all need to be met to be successful.  The truth is many times 

expectations can be changed to reduce the pressure.  

For example, I have felt overwhelmed before because I was trying to deliver a final, polished presentation on the first try in addition to all my other work.  Later, I found out that an imperfect draft was all that was needed by my manager that week.  

 Examine the cause of why you are overwhelmed, distinguish which ones are set by your own need to over-achieve, and change those to reduce the pressure.

 You can't over-achieve if you are overwhelmed at work
Prioritize and use alternative solutions – I learned this from my HP client in 2003.  I was the lead consultant for HP's worldwide marketing reorganization effort sponsored by the CEO, Carly Fiona.   We had 12 weeks to accomplish this and I was working about 12-14 hours a day.  Needless to say, I felt overwhelmed quickly.    There are mountains of work and high stakes as I was just promoted to manager at Deloitte and wanted to prove myself.  I was saved by my lead client.  One night, after a whole day of meetings, I was looking at about 3 to 4 more hours of work at 6:30pm.  My lead client came to me to ask me how much work I had left.  I told her.  She then sat down for the next 45 minutes to show me what must be done and where to cut corners.   By the time she left at 7:30pm, I was almost done.  I learned an important lesson that day.  She showed me that I was being too much of a perfectionist.    50% of my list of to-dos were cosmetic changes that didn't need done.  The other half, only some had to be done that night.  

 Moral of the story: Look at all that you have to do and prioritize what's really going to make a big impact.  Discard or postpone work that are perfectionist details.    

I have been able to accomplish more and work less ever since that project.
Communicate and negotiate – Don't struggle alone at work.  When you feel overwhelmed, get help from your boss. If you have a good boss, he or she would want you to succeed.  Voice your concerns early about being overwhelmed and ask for advice.  Also come prepared with what you propose as an alternative solution – perhaps finish your work on A,B,C on time but postpone the work on Y, and Z for a week.   Your boss will appreciate being forewarned and could even give you better suggestions about how to prioritize.
 Share the burden – Also consider asking colleagues for help if they have the time or the knowledge you need.  We can all feel overwhelmed at times.  You can ask for help this time and return the favor in the future.
At the end of the day, feeling overwhelmed at work is often unavoidable if we like to challenge ourselves and advance in our careers.  What's important is catching ourselves early when we feel overwhelmed and use the solutions above to calm down, prioritize, and get help.
– Lei