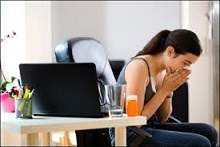 Should I be working while sick?  The answer ideally is no.  If I am sick, I should go home and rest.  Come back when I feel better.  The real world however is not that simple, especially when we are talking about everyday illnesses, such as a cold or a flu.
Every time I feel unwell, I debate whether to take time off or how to work while sick.  This is because in the modern world of Paid Time Off and tight deadlines for busy professionals, we have to figure out the tradeoffs between suddenly taking time off vs the impact of it on our work.  Here are five key considerations for many of us.
Can I truly let go of the work and rest if I take sick days. Whether I recover quickly  depends on whether I can truly rest.  Depending on my work situation, I may stress more if I tried to not work abruptly and rest.
Taking sick days will eat into my vacation days.   Most companies no longer give us sick days separate from our vacation days.  Instead we get Paid Time Off (PTO).  Therefore, taking 3 days off to recover from a cold, just means 3 less days of vacation that year.   Is it worth it?
Will resting even help me recover?  I may choose to take some time off, but it may not help me recover faster, as some colds will just need to take its course.  That is sort of why my husband would argue, a cold without a fever is just discomfort, not sickness.   Just let it take its course.  I cannot rush it anyway.
Will the work be worse if I went away suddenly?  This is a serious consideration. Ever go on vacation and come back to twice amount of work and stress?  Well, this would be similar or worse since the time off is unplanned.
How will this affect my reputation?  If I am presenting at an important leadership meeting, can I just say no at the last minute if I am sick?  should I?  If there is a key deadline coming up, do I have the luxury to take any time off to rest or should I just rest after the deadline is met?
I was sick for about a week just now, which prompted me to write this article.   I noticed the internal conflict I had and wondered how many others also struggles with this question – Should I be working while sick?
When the work is light, the answer is simple – I work from home and take it easy until I am better.  I don't need to take time off as the work is mellow enough to let me rest here and there. When the work is hectic, this is where the decision of whether to work and how to work while sick matters. This is also where soft skills like self awareness, self confidence, communication, and delegation can guide me to the right approach every time.
Self Awareness – Know thyself – I know I would have a hard time resting if I all of a sudden took time off for a cold.   I would feel guilty especially if I didn't have a fever.  I would end up worrying more about the work that I left behind.  How would I catch up?   What's important here is

Know my health – can I still function?  Will working make me much worse?
Know the way I stress – How will what I decide affect my stress level?
Know my mind – Can I let it go and truly rest?

Self confidence and delegation – Prioritize – Believe in what you can and cannot do while sick and set boundaries.  I have been working 10-12 hour days lately.  My current role is a high profile lead in a "game changer" initiative for the company.   All eyes are on us to deliver.  With that said, however no one micromanages my day.  I have full control.  This time I decided to work full time while sick, but made some adjustments to also help me recover

I prioritized meetings I must attend and push out others that are less urgent
I delegated leadership of meetings to others.  I don't always need to lead.  I assessed who is the next best person to do it and asked them for help.  Most people are happy to help or even welcome the opportunity
I pushed out all non-essential work so I worked closer to an 8 hour day and also made a point to sleep 9-10 hours a night
I worked from home certain days, stayed in my pajamas for phone meetings, and took power naps when I had time in between meetings.

Communication – While I don't make a big deal when I am sick, I do communicate to key folks to manage expectations and get help from others.  For example

When I lost my voice two weeks ago, I told folks, I will write my comments on the online meeting instead and only speak up when I have to.
I attended meetings remotely instead of in person to save others from my germs and save myself some energy.
It took me 8 days to fully recover from my cold.   Would I have gotten better sooner if I took a day or two of PTO?  That's always the $64 million question.  You just never know.  In my case, I doubt it. In either case, I knew I made the right decision to keep working while sick as my stress level was steady.  I was able to sleep well as I didn't over-worry about work.   To me, that was key to my short term productivity while sick and my long term health.
Your comments: Do you continue working while sick?  How to do deal with this?  I look forward to your comments.
Like this article, then help me share it on Linkedin, Twitter, Facebook, Google+, etc.
New to my site? Start here – Soft Skills – How to Succeed Like an Executive
Best wishes to your healthy and your career success.  I am always in your corner
Lei