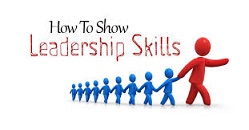 Great leaders don't rise to the top by happy accident. Rather, these leaders hone a very specific set of leadership skills that contribute to their own success (and the success of others) such as growing a business, streamlining business operations, or motivating people to work smarter toward common goals.
What are leadership skills in every accomplished leader's toolbox? If you're wondering what those key leadership ingredients are so you can apply them in your own workplace, take a look at this list.
Communication:

Experts estimate that poor top-down communication

costs companies $9.3 billion

, or $26,000 per employee. Visionaries must successfully communicate ideas, action plans and expectations to achieve tangible results. A good leader lets team members know his or her goals and priorities up-front, and trusts employees to tackle them.
Confidence:

For others to have confidence in a leader, that leader must have confidence in his or herself. One study found that

70 percent of employees

who lack confidence in the abilities of senior leadership aren't fully engaged in their work. Confidence portrays strength and conviction, and—combined with proven results—can encourage both trust and employee motivation.
Honesty:

According to leadership experts Jim Kouzes and Barry Posner,

honesty is the most important trait

of effective leaders. Transparency and honesty models good character, and instills trust and respect among teammates. Alternatively, a lack of honesty can prevent goals from being met and cause an entire team to be negatively affected.
Relationship building:

Roxi Hewertson, CEO of Highland Consulting Group, blames one of the reasons

40 percent of new executives fail within the first 18 months

as a lack of emphasis on relationship building. A savvy leader is able to network and build relationships both internally and externally, nurturing positive relationships with key stakeholders. In turn, these stakeholders (such as other employees, managers, board members, clients and industry leaders) will be more apt to support leadership to achieve goals.
Influence:

More than half of Millennials

define leadership as "empowering others to succeed." The ability to influence, inspire and motivate others is an important quality for excellent leadership.
Passion:

Executive coach Nozomi Morgan claims that

passionate employees

"take the biggest risks, step up to the plate, and help make the biggest leaps forward within teams, companies, and organizations." Therefore, good leaders must possess a strong vision for their own future and the future of a company, infecting others with their own passion to effect change.
These six core leadership skills differentiate a good leader from a great one, which can in turn positively impact a business in several ways.
According to one study, "extraordinary" leaders can more than double an organization's profits, versus leaders who are simply "good." Another study found that quality of leadership has a direct impact on employee commitment and satisfaction.
Your Comments: Do you agree with this list of leadership skills?  You can be a leader at any organization level.  Do you agree?  Share your comments and let's have a discussion
Like this article, then help me share it on Linkedin, Twitter, Facebook, Google+, etc..
New to my site? Start here – Soft Skills – How to Succeed Like an Executive
Lei