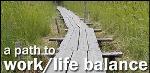 Achieving work life balance takes self-awareness, making tough choices, and being disciplined.  As a recovering over-achiever and perfectionist, this is hard for me.     My natural tendency with any job is to err on the side of working over-time and prioritizing my job above anything else.   The only reason I was able to maintain a healthy work life balance for the last six years was by contracting instead of working as a full time employee.  Being paid by the hour reminded me constantly to stay un-attached and avoid over-working.
Now things are changing.  I accepted a new full time job as Vice President of Customer Experience Programs for a $4.5B business.  It's everything I wanted in a job, including the fact that this company and my boss are known for supporting the work life balance of all their employees.
What's the problem, you may ask?  I was concerned that my natural tendency of wanting to please the boss or over-achieve beyond what was asked would take over as soon as I started.  Old habits die hard. Half of the battle in achieving work life balance is fought within ourselves as we make decisions about how much to work and stress.  So, to keep myself disciplined, I decided to do two things before I started working.
I wrote a letter to myself

.   Before I got brain-washed by the corporate ladder again, I wanted to remind myself what success in this new full time role really means to me.

I shared that letter with two people in my life

 to keep me honest, and so they could support me in living a passionate, balanced, full life.
Now I want to share this letter with you, in case it can help you with your journey toward achieving work life balance.
——————————————————————————
I am writing to remind myself of why I took this full time job, what I define as success, how to achieve success, and what I should watch out for.
Why I took this job – Take on a challenging, meaningful job while achieving work life balance.
Make enough money to support my lifestyle and my passion for helping others.
Make a difference for the customer experience.
Work with cool people who also have lives outside of work.
Have time for my family, my blog, and my personal life.
Prove to myself and others that meaningful work does not have to take over my life.
What I define as success – Having similar work life balance and flexibility as my contract work, while building my work brand.
Work Life Balance:

Work regular hours – 35 to 40 hours is my goal.  No weekends unless it's an absolute emergency.

Don't take work or work stress home – everything can wait; remember how I did it with the contract. No one will die if I wait to work the next day.

Have flexibility to work from home or take some hours off for kids — as long as I get my stuff done.  Low face time.  I need to build trust with my boss, so she can let me work whenever and wherever I want.
Build enough autonomy to the point where I can work on some blog stuff at work.  🙂
Define my own travel schedule. At most, I'd like to take 1 trip every 2 months. Also, see if I can fit friends or visit-home-trips as part of it.

A role that can make a real change in the world (in this case, customer experience).
Build relationships while working with people; remember, the ends do not justify the means.
Remember, a 4 rating is enough, and my usual work is easily a 4. I don't need to get a 5.
Don't march at the same beat as type A people.
How to achieve success:
Work Hour Boundaries

Arrive around 8:30 -9, leave by 5 every day.  Having to pick up Isabel will help with this.

Turn off work phone after 6pm and turn it on at 8am.  People will have to call me at my personal phone during those hours if they really need me.

Don't check email on the weekends unless I am more stressed not checking it.  🙂
Don't accept 7am meetings or 4:30 or later meetings.   8am is okay as an exception.
Set up regular lunches with people to block out my calendar.  Block out at least 30 min for lunch on days with no lunch scheduled with others.
Work Wed afternoon from home after 2pm.

Remember, 80% is good enough. Perfectionism will suck up time, but won't really change anything.  When in doubt, work on the story and the hook rather than a perfect PowerPoint.
Set subtle boundaries with my partners, boss, and team.  Don't reply to email after hours or on weekends unless requested.
When I am putting too much stress on myself, read this, talk to my supporter, and write blog posts to stay self-aware.
Take my vacations every year – at least 2 weeks away and 1 week around the house.  

Block out schedule for vacations in advance.

Give myself cushion when setting timelines.  S

chedule meetings further out.  Don't crunch myself just because I can do it.  Follow the culture of the company which respects work life balance of every employee.  

Don't push too hard to deliver early.  Go at the company's normal speed.
What I need to watch out for
My need to please the boss or senior folks.  I know I am good at what I do, so I don't need to over-do things.  Do it to build trust initially, and not so much to be praised.
Perfectionist tendencies due to insecurity.  Set a cut off time.  Most people's PowerPoints sucks; focus on the story, the hook, and the ask.
My desire to work because the boss is working late or emailing me late.  My previous client used to work late, but never expected me to.  I do not need to feel guilty about this.
My desire to compete with co-workers who are younger, but at the same level.  Remember, I am choosing this better lifestyle for family and passion reasons.  I win if I can do this job well at the hours I want. 🙂
I know I can do it.  This is the new game in my life — to make work fit into my life on my terms.  In the end, I will be happy, less stressed, have a steady income, and make a difference.  🙂
Your Comments: How are you achieving  work life balance? I look forward to your comments below.
Like this post? Share on Linkedin, Email, Twitter, Facebook, Google +, etc.
Best wishes to a fulfilling life and career.
Lei