It's the season to be thankful.   Whatever kind of year you may have had, it's time to take a breather.  I hope you are finding time to relax and celebrate the year with family and friends.
Job seekers: Xmas is usually the slowest season for recruiting as many hiring managers are taking vacations and budget for hiring are not set until January.   So give yourself permission to enjoy the holidays and start your effort anew in the new year.  The only thing you can work on is your resume during the holiday.  If you want help, start with this free resume template.
Those with jobs: Be thankful to have a job since unemployment is so high still.  Even if your job is not perfect, you at least have options to work it out or try to find a new one in the new year.   Most companies have holiday vacation schedules.  Take it and spend time with your family.  Work can wait.  Choose life over work during this holiday season.  Nobody ever wish they worked more on their death bed.  Everyone however wish they spent more time with family.   Take the time now while business is slow and say no to work.
As for me, I am thankful for a wonderful year.  While I have little income to show for it this year, this year has been rewarding in other ways and an adventure.
I am thankful to be able to reach over 13K readers now worldwide monthly and still growing at 20-30% a month.   I started this year only reaching about 500 people a month.  I also found out that I love to write.  I have hated writing for about 15 years of my life, so this is quite a revelation.
I am thankful for everyone's interest and support of my career advice blog.  I love the fact that I can help people I don't know with their careers.   I treasure every email that lets me know I was helpful in some way.
I am thankful to find a passion – helping professionals develop their soft skills to achieve career success – which I realized that I would do for free indefinitely if I had all the money in the world.  I don't have all the money in the world, but I am working on gaining financial freedom so I can always pursue what I love.
I am thankful for a year of learning new skills – writing, search engine optimization, paid search marketing, new product development, etc…
I am thankful for the unconditional support of my husband and my ever growing family – I have a 3.5 year old daughter and by the time you read this, I would have given birth to another daughter due Dec 15, 2011.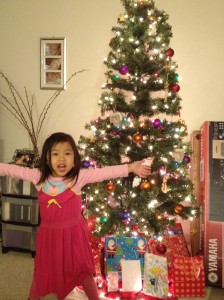 This picture of my daughter says it all about how I feel about the holidays.  Perhaps it's because I see more of life through her eyes these days.  She is so excited about our tree, all the presents Santa is dropping off, and her little sister due to arrive this week.
I wish we can all remember how we feel about life and the holidays as we did as a kid – with excitement, joy, and hope in our eyes.   Happy Holidays to you and your family.  I will be back next year with more career advice.  Email me if you have any topic suggestions.
I am always in your corner.
Lei