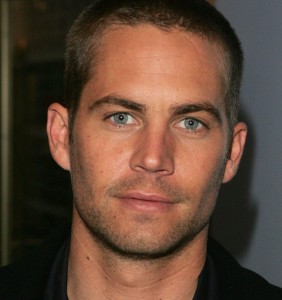 Paul Walker was a down-to-earth, fun-loving guy who also happened to be a famous actor.   I was shocked to find out he was killed yesterday in a car accident at the age of 40.  Since I have met Paul Walker, I wanted to dedicate this post to remembering him and reminding us that life is short.  We need to seize the present and live life to the fullest while we can.
We met Paul Walker two years ago when he came to our house to watch the UFC fight on TV with our good friend Dr. Peter Goldman.
I remember thinking that he was taller than I thought and had a very warm smile.  Pete told us Paul didn't like much attention, so we just treated him like a regular guy.   I remember
He sat on the floor in front the couch since our apt was small. He was very low maintenance.
He happily hung out with my husband and Pete, predicting who is going to win the next fight and commenting on the moves they saw on TV.
When he went off to the bathroom, we decided to all screamed at the TV in unison.   He rushed back, bummed that he missed something big.  He laughed heartily when he realized we pranked him.  He was a good sport.
He told us he lived in Santa Barbara so that he could be outside the lime light and lived a more normal life with his daughter.  He talked to me about his daughter and how he loved his relationship with her.  He showed off her picture like any proud father.
He rolled on the floor with my husband and Pete after the fights to try the latest Jiujitsu moves he learned.
He wished me well as I was nine months pregnant then and hugged us goodbye.
It was a fun night for us all – normal and low key.  I can't believe he is gone.  I didn't know Paul Walker well except that one visit to our house.   Our friend texted us last night to let us know the sad news.  My first thought was what a loss for him and for his daughter.   What agony he must have felt in the last seconds of his life?
It's times like this that makes me snap out of my everyday worries to face the one truth in life – We are all going to die.    We all think it's when we grow old, retire, and in our 80s, but news like this makes us face the facts that life doesn't always work out that way.  It's amazing how fearful we all are of things like not getting a promotion, job loss, etc.. yet we rarely ever think about death as if it's not really relevant.
So I want to ask you,
Are you living your life assuming you will live into your 80s?
What important things are you putting off until you have more time, until your retire, until you are…?
What would you do differently if you knew you will die in 2014?
What are some things you want to pursue but are too afraid to go after due to your fear of failure?  Would you regret not even trying if your life ended suddenly?
Are you thankful for what you have in your life, in your work or are you always looking at what is still missing?
What would be your answers?  I am not trying to be morbid.  Rather it's sad news like Paul Walker's sudden death that reminded me of what short amount of time we have on this earth.
My heart goes out to Paul's daughter Meadow.  I am so sorry for her loss.
Lei