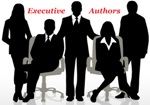 I am proud to introduce to you – our Executive Authors team.  I am fortunate to have many friends and colleagues who are executives with deep business experience.  Like me, they also want to share their wisdom from the work trenches to help you succeed.
Every Executive Author has over 15 years of business experience working in Fortune 500 and/or start-up companies. See each Executive Author bios below and why they want to help you.
Given the sensitive nature of the stories and learning they are sharing, many Executive Authors are using a pen name.  Click on their name below to see the first story they shared with you.
Sign up for the Soft Skills Gym today to get instant access to all their stories and lessons learned.
How to Find Content by Executive Authors
To find stories shared by Executive Authors,  use the "Search" function on the sidebar
Enter their first name in the Search box to find all the posts by that person
Go to this page to get a full list of all the interviews with these Executive Authors – one-on-one candid conversations about theirs trials and lesson learned
Executive Author Bios
Cindy Wong-Zarahn – Cindy is a "perfectly imperfect" working mother of two. She graduated from UC Berkeley and holds a Wharton MBA. She has nearly 20 years of marketing experience in telecommunications and financial services, focused on brand and loyalty product marketing.  Follow Cindy on twitter @CZarahn
"I've seen the good, the bad, and the ugly over the course of my working life. Not everything has a happy or desired ending – but it ends, and we all have to decide where we go and how to grow and move forward from it.  I want to share my thoughts and stories not because I have all the answers, but because I hope you always ask yourself the right questions."
Don Victor – Don has a BA in accounting and an MBA.  He is a senior executive with over 25 years of experience.  He is currently leading a division of 300 people in a Fortune 50 company.
"Through all of my experiences in corporate life, I have found that the human touch factor has stood the test of time. My most inspirational and memorable moments have been when others have taken the time to share their insights with me. It is with this perspective that I embrace the opportunity to share my thoughts with those that have an interest in being the best at what they pursue."
Gloria Asari – Gloria has BA in Finance and a Wharton MBA.  She has worked 18 years in various financial services companies and currently leads a team of 30 people.
"As I look back on my career, I wish I had a resource like this Soft Skills Gym. Soft skills are the key to a fulfilling career. I want to share my stories and learning's so that others know they are not alone, help others and ultimately pay it forward. We are continuously evolving and to be of service to others that are on the same journey is a wonderful gift. I look forward to sharing my story and hearing from all of you."
Helena Light Helena is a senior executive with 30+ years of business experience.  She currently is a partner and COO of a start-up financial advisory firm.
"First I had financial 'jobs', then I had financial 'careers.'  My most radical decision was to earn a MA at Columbia in writing and literature. Why, when my work was financial? I learned that the practice of writing, the skills of observation, and engaging in discussions and listening to various insights are valuable career tools. The stories on this website are doing just that — offering insight, teaching observation.  I am thrilled to share my stories with you. Maybe a story can inspire, or reinterpret what we all engage in at work,  to help lead you to new insights and a whole new direction."
Jane Lin – Jane is a marketing strategist and tech entrepreneur.  She has a wide range of experiences from working in consulting/agencies for clients such as Sony, Nestle, and USAA, to starting her own Internet start-up, to most recently working for Zappos, and now at Google.
"Hearing how other people have navigated the same choppy waters in their career has been crucial to my own career development, and I also find it comforting to know that we all face some common challenges. I see Soft Skills Gym as a wonderful resource that brings the experiences of so many professionals in one place, and I am excited for the opportunity to contribute to it.
Kate Lin – Kate has a business undergraduate degree and a Stanford MBA.  She has over 20 years of work experience working in a variety of roles from product marketing to operations for big and small companies. She currently works in IT for an established start-up.
"Every new manager needs to know they're not alone in their experiences. Chances are, we've been through it before, and you can benefit from our lessons learned!"
Louis Johnston – Louis has a BS in Marketing.  He has over 15 years of experience leading digital marketing efforts for various start-ups (including his own).  He currently manages a team of seven people and is the Head of Growth for an established start-up.
"I believe I'm an average person and that there are millions of others like me who need just a little guidance to help produce big results for their careers. After doing things the hard way for many years, I believe  a lot of people can benefit from my stories through learning what NOT to do on their path to career advancement."
Lynn Marie Auzenne – Lynn Marie has an MBA from the Haas School of Business at U.C. Berkeley, and over 20 years of work experience.  She has worked in financial services, technology and consulting.  She is currently an executive and digital product development strategist at a major financial institution.
"I struggled in my early career to get oriented and understand the unspoken rules of the corporate world. Navigating career choices can be challenging.  I wish I'd had access to resources like Lei's online career coaching.  It's an honor to think that my experiences could help others make better choices; it makes me feel as though some tangible value can come from my mistakes and learnings as well as from my successes."
Nadia Drew – Nadia is a senior finance professional. She has over a decade of experience in  investment management, as a portfolio manager at a hedge fund and  top tier investment firms. She is passionate about philanthropy and is a guest lecturer at a top MBA school. Nadia began her career as a software engineer and holds engineering degrees.
"I hope readers can glean career networking lessons from my experiences.   I believe that strong relationships are the hallmark of a successful career and so in helping others, our careers are always being developed."
Stephanie Hellman – Stephanie is an inspiring, authentic leader with 20+ years of experience working for Fortune 50 companies, including Wells Fargo, Citibank, and American Express.  In late 2017, she made a courageous decision to leave her corporate career as a senior executive to find fulfillment and a more meaningful way to contribute to this world.  Her stories are an inspiration to me and I think will be to us all.
"My hope is to give back through my experience as so many gave to me.  That I may encourage someone out there to take pause and listen and take action toward demonstrating that happiness is the purpose and priority.  Is your work in alignment with your values?  And at 65 or 70 years old will you have any regrets if you stay on this trajectory?"
Yvonne Chen – Yvonne has a masters degree in Engineering from Stanford.  She has 18 years of work experience in consumer goods and medical device industries focusing on market research and consumer insights.
"I think career success is a journey rather than a destination. Every job I had taught me something valuable, even ones I didn't like.  I want to share my stories to empower you to make changes in your career even when it's scary."
Your Comments:  Let me know if you have any questions or comments about the Executive Authors team.  Best wishes to your career success!