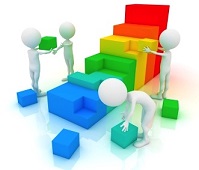 Good teamwork calls for creating conditions that encourage everyone in the team to share their ideas, feel empowered, and perform in a collaborative and coordinated manner. As a team leader, you are responsible to develop people's strengths, build good relationships with people, and set meaningful team goals to facilitate it.
If you are a team leader or manager, you can improve teamwork in your workplace for specific projects or to achieve overall objectives of the company using the following 5 tips.
1.     Appreciate Your Team Members' Efforts
Only by appreciating others and making your team members aware of the importance of their role can you drive your team towards success. Engage all your team members by sharing information relevant to your project and recognizing their participation through regular feedback.  Besides this, reward all members of the team for achieving specific goals to motivate them and make them more committed towards the project or the company.
2.     Facilitate Idea Sharing
Set up either physical or virtual work spaces to enable team members to get together to brainstorm, share ideas, or discuss progress on projects. An open-work environment is not always appropriate for team discussions, so you might need outdoor or remote spaces in the workplace to facilitate team meetings.
3.     Discuss Team Dynamics on a Regular Basis
Encourage open communication during team meetings to discuss team dynamics in order to make your team more effective and productive. Invite ideas and suggestions as to how team members could elevate teamwork to achieve specific goals. These discussions should always be used as a chance to improve team dynamics rather than criticizing someone in front of other team members.
4.     Welcome Questions, Suggestions, and Comments
Encourage everyone on the team to put forward their ideas, suggestions, and feedback regarding the project to identify and correct issues and increase the effectiveness of the team in a timely manner. Remember that all great ideas and improvements come up through questions or by looking at a situation from a different perspective, so encourage all types of input from each team member.
5.     Provide Learning Opportunities
By offering training or providing learning opportunities on an ongoing basis, you can strengthen team members' skills and capabilities for consistent growth and development. Also, you can assign mentors or hire an external professional coach to develop specific skills and competencies within the team as well as individuals.  By investing in their learning opportunities, you'll also be grooming future leaders. These learning opportunities can come in the form of furthering their education.  For example, if your team is in the HR function, you can encourage them to learn through online courses like a HR Masters Online.
Read more about teamwork and manager skills and its importance in the workplace by signing up today!
Your comments:  What challenges are you facing in facilitating better teamwork?   What other tips do you have to improve teamwork in the workplace?  Share your comments below
New to this Site?  Then start here – How to Succeed Like an Executive using Soft Skills
Best wishes to your career success!   I am always in your corner.
Lei