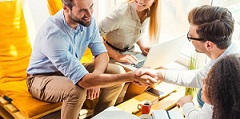 Only 20% of professionals get 100% correct on this quiz.  Are you in the top 20%? Find out in just 2 minutes by taking the quiz below.
Your interpersonal communication style can directly affect your work reputation and your overall work effectiveness.  Your communication style pertains to
How you speak to someone one-on-one or in a group setting.
How you discuss work-related topics or personal topics at work
How you carry yourself in a formal and casual communication with others.
While it may be true that everyone is entitled to their own communication style, it is important to realize that certain styles are more acceptable and beneficial to you than others in the Western business world.   Take 2 minutes to take this quiz now – find out how your interpersonal skills stack up against what's expected!
I developed these 13 basic interpersonal communication style questions as they are the most commonly encountered in business settings.  Answers to some questions are fairly consistent across all cultures in the world and therefore easy to get correctly.  While some questions would have distinctly different correct answers depending on culture.   The correct answers in this quiz are based on common standards in the Western business world.
For details on what are the best answers and why, go to the detailed explanation here – Interpersonal Communication Style Quiz – Detailed Answers.  If you have time for a longer quiz, take the full 25 questions quiz here.
Your comments: Are you surprised by any of the recommended answers?  why?  Add your comments and let's have a discussion.
Like this post? Help me out by sharing it on Linkedin, Email, Twitter, Facebook, Google+, etc.
New to my site? Start here – Soft Skills – How to Succeed like an Executive
– Lei