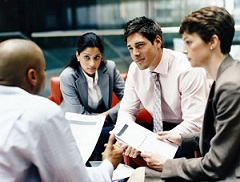 You may—or may not—be surprised to learn that the vast majority of work-related problems stem from bad communication. Poor workplace communication can cause frustration, misunderstanding, apathy, revenue loss and poor performance. Communication issues account for 64% of workplace negativity, and often these problems are completely avoidable. With communication issues so prevalent in the workplace, the way you communicate with your colleagues and managers can either make or break your career.
While that can be daunting to think about, the good news is that workplace communication skills can be developed and perfected with practice. And, because communication makes up such a large part of all business operations, communication skills are also some of the most transferable business skills. When used effectively, good communication can achieve greater success for you, your team and your entire organization.
We've put together a list of five essential, career-boosting workplace communication skills and "soft" skills to help get you started:
Listening skills:

The ability to listen to and incorporate outside perspectives into your communication. When you think of communication skills, listening might not be first to come to mind. However, listening is one of the most important skills a worker can possess, because it shows respect for other opinions and the ability to come to a mutually beneficial solution. Remember that

hearing

is different from

listening

: An active listener will show engagement in a conversation by allowing time for interjections, repeating other people's words and

asking questions

.

Writing skills:

Using concise, specific information in written communication to support a proposed solution. To "manage up" your communication, written correspondence should be short and to-the-point. This helps your coworkers and superiors focus on the highlights of your message and saves them valuable time. Avoid being too brief, however—if you're rushed for time, don't skimp on details or follow-up as you might with your personal electronic correspondence.

Verbal skills:

Clearly verbally communicating information such as ideas, opinions and updates. In-person, verbal communication is necessary for team members to come to an agreement and work in tandem toward goals. Within the verbal skills category are also presentation skills, or presenting information and ideas to an audience in an engaging and effective manner. Successful verbal communication can get buy-in from your audience and motivate action.

 

Interpersonal communication skills:

Building trust and relationships with business stakeholders. This "soft skill" takes verbal skills a step further, and requires you to get to know your coworkers and clients on a personal level. Discovering common ground and building trust will make future communication easier and more productive for all parties involved. Good interpersonal communication can also be useful with teamwork and networking, as it causes others to become more invested in your success.

Selling skills:

Convincing stakeholders to act on behalf of an idea, decision, action, product or service. Despite what you may think, you don't necessarily need to be in sales to be skilled in selling. Employees in any department can use selling and negotiation skills to influence team members, executives or clients toward a desired outcome. Ideally, that outcome will be mutually beneficial and keep the door wide open for future negotiations.
While this list is not an exhaustive list of all necessary workplace communication skills, mastering these five key skills will go far in advancing your career and earning the respect of your colleagues. Some communication issues in the workplace are unavoidable, but other issues can be skirted and conquered by simply improving these core business skills. And, implementing these communication best practices could make just enough difference for you to rise to the top of your organization.
Your Comments:  Which of these workplace communication skills has been the most difficult for you to develop?  How can we help?  Share your comments and let's have a discussion.
Like this article? then help me and share it on Linkedin, Twitter, Facebook, Google+ etc…
New to my site? start here – Soft Skills – How to Succeed Like an Executive
Best wishes to your career success – work smart and live more!
Lei