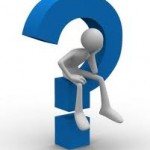 If you ask a kid, you will hear enthusiastic answers such as nurse, teacher, fireman, astronaut, doctor etc…   What about now, do you still ask yourself this question?   If not, why not?   We may be "grown ups," but most of us don't know the answer to this question as clearly as we use to as a kid.  I believe everyone should ask themselves this question at least once every two years.
It's important to pause every so often to reflect on your career path and ask yourself why are you doing your current job?  Is this what you want to do when you "grow up"?  Are you happy?  If the answer in your gut is no, then it's worth exploring why.  Once we are adults, we are distracted by money, prestige, status,  responsibilities or simply circumstance.   We also choose our jobs this way and then wonder why we hate getting up for work every day.
A friend of mine who just visited me from NY is a SVP of strategy and business development for a $2B non-profit organization.  Believe it or not, he is currently asking himself this question.  He is happily married and have a young daughter but it's a challenge to balance work and life.   He has been in his current job for 4 years but he doesn't know if this is where he wants to stay or where he wants to go next.
This just shows that no one is immune.  It's natural to feel uncertain no matter what your current position is.  It's also okay if you don't know the answers yet.  It's better to question than to be complacent and feel stuck.  As long as you ask yourself these questions, you have a chance to arrive at a revealing answer.  Perhaps you will rediscover why your current job is appropriate for reaching your long term goals and therefore can give you renewed energy at work.  Or perhaps you realize that it's time for a change and you can take action to figure out your next move.  Either way, there is a great feeling of control and direction when you initiate this self-discovery.
Good luck with your journey!
– Lei