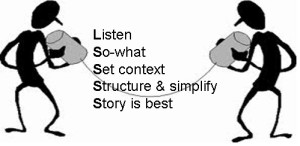 Communication skills are some of the most critical soft skills for achieving career success during a job search or in the workplace.  Improving your communication skills is a huge task, since business communication encompasses verbal and written exchanges, formal and informal styles of communication, along with one-on-one discussions and group talks. Obviously, then, this article is just a starting point.
After 15 years of developing my own business communication skills, I've learned five simple tips that are critical to any form of business communication. If you start implementing any of these tips tomorrow, you will improve your communication skills.
Listen – If you want others to listen to you, you must start by listening to them. We have two ears and one mouth for a reason, and we need to use them in that ratio. It's cliché, but true. Imagine having a brilliant, well articulated solution to the wrong problem, all because you misunderstood what your boss wanted. Most people know in theory to listen. We just need to remember to actually do it. Actively listening is the first step to effective communication.