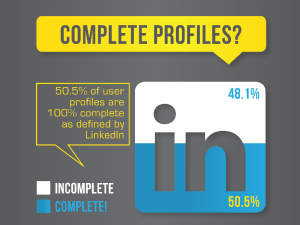 Completing your Linkedin profile is probably more important today than even updating your resume.   Even when you are not looking for a job, you should complete your Linkedin profile.   It is your online marketing tool to show off your skill sets and it can work for you 24/7 to attract attention in the market place.
Completing your profile also boost your competitive advantage.  According to Linkedin, only 51% of Linkedin profiles are complete today.  On the other hand, almost every major company out there uses Linkedin to look for qualified candidates.   Just by completing your Linkedin profile, you can increase your chances to stand out and make your Linkedin profile work for you 24/7.
Below is an easy to follow infographic about the 17 tips you can use to complete your Linkedin Profile.  If 17 seems too daunting, start with just the first 7 tips.  They should take no more than an hour total and can quickly get you results.  For example
Tip #1 and 5  – Use key words and brand your professional headline.  I added the keyword Product Management to the headline a few months ago and received immediately more Inmails about product management openings.
Tip #6 – customize your URL.  It's important to do this early so you can get your full name in the URL without extra numbers.   This helps because whenever someone types in your name in Google, your Linkedin profile will show up on the first page.   The best part is it's really simple to customize your URL on Linkedin.
The rest of the tips you can do over time.  Dedicate an hour a week to make updates and you will have a completed Linkedin profile in no time.    Best wishes to your career success.

Lei