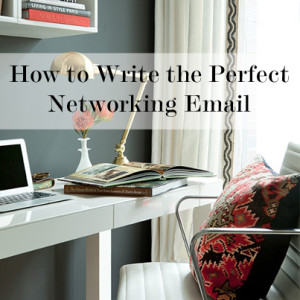 Since I have written a few networking emails in the last few months, I wanted to share these examples with you to help you with your networking efforts.   Below are two examples, each with a different networking purpose.
Example 1: Existing contact – asking for help (scoop on a company X)
Context: This person is in my network (Lisa) but I haven't spoken to her in five years.  Last time, I spoke with her, I helped her with some career advice.  We have a mutual friend in common (Cindy) who are good friends with both of us.
——————————————————————
Lisa,  long time no talk. I hope you are doing well and still enjoying work at company X.   They must be doing something right to keep you there for this long. 🙂  Glad we can finally connect on Linkedin. 
I am writing to see if I can ask you for a favor – Can we set up a time to do an info interview on company X?  My 3rd contract with Company Y is wrapping up in a few months.  While my group here is looking into hiring me full time, I want to also network with people working in other financial service companies to explore opportunities. 
Cindy recommended that I talk to you since you have worked with so many different groups at company X.    Specifically I am hoping to talk to you about
Your different experiences so far at company X – how you have liked it?  Do you recommend contracting or working there?
What does your group do and can my skills help?
I am looking for work that can impact the customer experience and/or company results (e.g., business project management, business and customer analytics, process improvement).  It would be great if you can advise me on which groups in company X may have opportunities like this.  (see my resume attached)
I would also love your reaction on my resume.   How does it come across? any red flags?  
I know you are busy.  Let me know if you have time for an info interview.  We can meet for lunch, coffee, or set up a call to talk.   Whatever is convenient for you.  Let me know.  Thanks in advance.  🙂
——————————————————————
Result: Lisa responded positively by email and we met for coffee.  I gleamed lots of insights about her company and realized it was not a good fit for me.  This was very helpful and saved me a ton of time.
Example 2: New Contact – Asking for help (finding out more about her group) and building out my network
Context: I wanted to meet this person (Jamie) because she is heading up a new customer experience group in a company I used to work for.  I didn't know her directly but my past boss (Mike) did.
——————————————————————
First, my follow up email to Mike after having a face to face chat with Mike expressing my interest to meet Jamie, whom he is connected with and asking if he can introduce me.  He agreed.  
Mike, it was wonderful to see you.  As always, I really enjoyed our discussion and appreciate the career advice your gave me.  I will definitely keep you informed of my progress.    On a separate note, as I mentioned, I am really interested in meeting Jamie xx who heads up the new customer experience group in XXX.  I would really appreciate it if you can connect me with her.  I would love to find out more about her group and network with her.  Thank you so much for your help.
Then, Mike send me the following email chain a week later to let me know Jamie has agreed to meet with me.  Read from bottom to top.

Lei – For discussion with Jamie, can you arrange a time with Christie?  Mike
_____________________________________________
From:Mike
To: Jamie
Thanks… I'll have Lei arrange with Christie.
_____________________________________________
From: Jamie
To: MIke
Sure. Christie XXX, my admin, can set up time. Will probably need to be in a few weeks.
_____________________________________________
From: Mike
To: Jamie
Jamie,
Lei Han has worked with the xxx team for 3 full stints as a contractor on customer experience efforts.  She recently did some work with the xxx group she was extremely interested in – it included a combination of process work and data analytics.  Many of the xxx team rely on her business sense, logical thinking, and desire to move to execution to help move their initiatives forward.
She's expressed an interest in adding depth to her knowledge of the type of work your group does.  Would you be open to having an informational discussion with her sometime soon?  Both John (Mike's boss) and I think she's talented and want her to come back – and assist in her desire to know more. 
Lastly is my email to Jamie and her admin Christy to set up a time

Hi Jamie, 
Thank you for agreeing to meet with me for an informational discussion.  From what I heard so far, it sounds like you are doing some amazing things in improving the digital customer experience for the xxx customers.  I look forward to finding out more. 
I will coordinate with Christy from my personal email account for a time that is convenient for you.  I will be out of the country for a family trip for most of October, so I will find a time for us in early November.  Please find attached a copy of my resume for your reference.Thanks again.   I look forward to it.
Lei
——————————————————————
Result: I met with Jamie in November and had a very fruitful conversation.  She connected me with two of her direct reports for further info interviews and also agreed to connect with me on Linkedin.  I also promised to keep in touch and let her know when I am in the job market again.
I am not showing these examples to imply if you do this, you will definitely get a positive response.  There is never a guarantee there, but for each of these emails, I used the PRSP framework I developed to consistently to take action in networking.  I don't expect these emails to always work but at least I know I tried my best.
Also note email is just one medium for networking.  It is important to use a mix of media depending on your purpose for networking and who you are contacting.  The most popular ones are in person, call, email, and Linkedin for networking.

Your comments:  Do these example help you? Add your comment below and let's have a discussion.
Best wishes to your networking efforts.  I am always in your corner
Lei