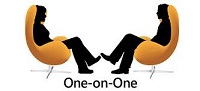 I consider myself to be fairly competent at networking.  Even so, I still got intimidated when I thought about how to network with senior executives at my company.   I probably experienced some of the same self-doubt you have gone through:
Why would they want to build a relationship with me?  I don't work with them day to day
They are probably too busy to connect with me.
I don't want to come across like I'm "kissing up."
How do I ask for a meeting?
In the last few months, I learned five great tips on networking with senior executives.  They have helped me authentically connect with three senior folks at my company.  Conversations with them have helped build my work brand and made me appreciate how much I can learn from each of them.  Here are the five tips.  I hope they can help you in your career.
Tip 1:  Less is more – identify which senior executives you want to network with.  Look at all the senior folks in your company and choose, at most, three executives you want to network with. Focusing on building deep relationships with a few of them is better than trying to get to know all of them. Here are the criteria I used to decide who to network with.
Recommended by others you trust

– Not all executives are created equal.  Many people in leadership positions still only care about themselves.  It's important to find out about their reputations and then figure out which ones are genuinely interested in developing people.

Relevance to your work

– Have you worked with his or her teams?  It would make more logical sense to reach out for a meet and greet if there is some level of connection between your work and their sphere of influence

Gut feeling from past interactions

– If you have had any direct interactions with a senior executive, then trust your gut instinct.  Some will seem approachable and easy to talk to and some will seem aloof and guarded.  One of the relationships I built with an executive was purely based on our informal chats in the hallway about our personal lives, travels, etc. She is now an invaluable mentor for my career.
Tip 2:  Take action – Be proactive and reach out for a first meeting.  This is by far the hardest tip to follow for most people.  Many of us have these ideas for a long time but never actually do anything about it.  Just do it!  Only when you practice, will you get better at this skill.  You may not always do it right, but that's still better than doing nothing.
Start with the executive you have the most personal contact with 

–  You will have the best chance of success with someone you already know.  Not only will this interaction build your confidence, but that executive can coach you on how to approach others along with who else you should approach.

Make it a one-on-one meeting

 – While face to face is preferred, it is not always possible.   A phone call can be just as effective.

Be flexible with timing

– Offer options and leave it for the executive to choose the time that works for them.

Be persistent but respectful

– It's not only possible that it may take several tries before a meeting can happen, but executives are busy and may cancel on you. Don't take any of it personally.
Tip 3: Ask for Coaching or Offer to Help – This addressed my fear about how to come across to a senior executive. The most common mistake people make in approaching executives is asking something like the following: "How do I get to senior management, like you?". It may seem like you are complimenting the executive, but you actually come across as self serving and burdensome. Instead, you should try either of the following:
Ask for coaching and advice:

  This will help your career, and it naturally compliments the leader you are reaching out to.

Offer to help:

  Askg something like, "How can I be more effective in my role as a partner of your team?" or "What can I do to improve how we do xyz?".
Neither approach is focused on climbing the career ladder. Instead, they are about reaching out to learn and become more effective at your job.
Tip 4: Prepare to Listen and Ask how to Stay Connected – If you successfully get a first meeting, you will most likely get 15 to 30 minutes to talk to him/her. Come to the meeting with, at most, 1 or 2 questions and prepare to listen.  This is not about you talking their ear off about your accomplishments or perspectives. This is time to listen to their guidance and perspective. Listen and have them clarify what they are sharing with you.
Assuming the meeting goes well, finish by asking if it's okay to reach out in a few months to reconnect.  You will be able to tell from their response whether or not they want to continue the relationship.
Tip 5: Be Thankful and Follow Up – Building relationships with anyone will take more than one interaction.  Just like any networking effort, it's important to be thankful and follow up
Once you've had your first meeting, be sure to send a simple 'thank you' email or note.
More importantly, if an executive provided advice for you to follow – like 'you should also talk to these two people on my team' or 'this is how you can approach the work next time' – once you have done those things, let them know. This will help you build your reputation and relationship with them.
Last but not least, schedule a second meeting
Your comments:  Are you networking with senior executives today?  Why or why not?  Have these tips helped?  Share your comments and questions below.
Like this post?  Then help me share it on Linkedin, Facebook, Twitter, Google + and by email.
Lei