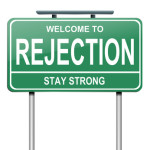 Interview rejection is always going to be difficult to hear.  Regardless whether you are a recent graduate or you have been working for years, it's never nice when you get that phone call/email/letter telling you that you were just not right for the role and thus letting you know the interview did not go well.
So, how do you deal with being rejected after a job interview? Here are 5 tips to help you stay strong, learn from this experience, and stay persistent with your job search efforts
Tip #1 Realize it happens to everyone
Interview rejection is part of the job search process.  No one is immune.  The earlier you accept that the less it will sting.   Like baseball, job search is a number games.  You need to understand your odds.  Baseball players who hit 0.333 are considered superstars yet they "fail" to hit the ball for a run 2/3 of the time.   That's equivalent to being rejected 6 out of 9 job interviews.
It's important to realize for your confidence that this happens to everyone and what you are really trying to do is just get 1 good job out of all the interviews  you go to.  Every other interview where you don't get the job is just good practice for the next one.  
Tip #2: Don't take it too personally and know what the endgame is.
You may think that it's a personal attack to get rejected after an interview. That they dislike you as a person. This is, in all likelihood, not the case. It could be several reasons why it didn't work out.
Reason 1 – perhaps  your skills and understanding of the role not lining up exactly with their expectations.   Learn from this by researching the next company on several levels. Find out their goals and their motivations. Understand who works for them and in what capacity. Align your expectations with theirs and you will find opportunities will present themselves.
Reason 2 – sometimes you simply don't have the personality needed for the role. Advanced preparation and aforementioned research should give you an indication on how right you might be for the role. However, being invited for interview shows that potential employers realise that you are qualified for the job. However, the interview is not for that. What they want to know is:
Will your personality fit in with their established work and culture environment?
Can you do everything that your resume says you can?
Are you someone who appears confident and competent?
Focus on this rather when they say "no" and turn your disappointment into a productive force for improvement.
Reason 3 – sometimes rejection can happen for no good reason.  The job interview process is imperfect.  Either you or the interviewer can just be having an off day.  In which case, that job is just not meant to be for you.  I would like to think that means there is an even better job out there that is a better fit than this one.  
Tip # 3 Ask for feedback
If you've made a mistake in the interview, it can be difficult to know exactly what it was. After all, you're nervous and you may not have realised what you did, or didn't do. If possible, try to ask for any form of feedback from the employer. There's a chance they will be willing to advise on what they felt you were lacking.
Remember, you are not trying to defend yourself here. When asking for feedback you must remain impartial to any critical suggestions. A simple request such as the following could reap dividends when it comes to your next interview:
"Thank you for letting me know. If you can spare a moment, would you be able to offer any feedback on the reasons I did not progress? Any criticisms regarding my manner, demeanor, resume or interview technique would be most welcome.  This would allow me to learn and improve for the future."
Not everyone will provide you honest feedback even when you ask.  However, if they are forthcoming with feedback, listen with an open mind so that you can understand from their perspective what didn't go well and learn from it for your next set of interviews.    For more tips, read this article on Interview Feedback Questions you can ask. 
Tip 4: Shoulder some of the blame
It's not good trying to think of excuses like "the questions were unfair" or "I could tell the interviewer didn't like me right away". This is pointless and unproductive. Simply learn that it's a learning process and that there are going to be parts that you didn't get right, and parts the interviewer could have done better.   To learn about common faux pas', take a look at the most common interview mistakes, so you can avoid making them.
Tip 5: Move on without baggage
This may be the most important tip of all.  Interview rejection is tough to handle if we let it affect our ego.  So don't let it!  Remember the baseball analogy.  If a baseball player feel dejected every time he cannot hit the ball for a run, it will affect his next attempt.  It will just be a downward spiral.  They are basically psyching themselves out more and more each time.
Your lesson here is to keep going with job search like you have never been rejected.  There is a common saying that says "To find love,  give love like you have never been hurt."  I would say that same for the job search process.  "To find your dream job,  put forth all your confidence and energy like you have never been rejected."
Ultimately, any mistakes you may have made in an interview will correct themselves with practice.  I don't know anyone who is a master at something new when they do it for the first time.  So keep practicing, keep going, and you will find a great job! 🙂
Your comments:  Have these tips helped you? Add your comments below.
Like this post? then help me out and share it on Google+, Twitter, Linkedin, Facebook, Email, etc…
Guest Author: Halit Bozdogan writes on behalf of Empty Lemon, a UK-based recruitment agency specialising in the Ad ministration and Sales & Marketing sectors.
This is a guest post with significant additions in Italics by Lei Han.  If you would like to submit a guest post to www.BeMyCareerCoach.com, please follow these guest post guidelines