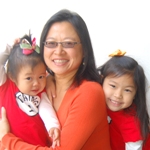 Every year seem to go by faster and faster. Do you feel that too?  Well, it's New Year's Eve Day and it's time to look back and take stock of what happened in 2013.  It's my way to slow down today and be grateful for 2013.
At the beginning of this year, I decided to make 2013 about experiences instead of goals.  Now I can look back and appreciate all the new and challenging experiences I had this year.  Some are big and some are small.  All of them taught me something new.    As you will see, it's a work in progress for many experiences.   Life is about the journey and not the destination, right?
Improving my own soft skills
My self-awareness improved a lot this year

.  When I feel down, irritated, or upset, I am learning to catch myself sooner so I can choose a different action.  This makes me feel empowered.

Learned to not care too much at work

– this is harder than it sounds, but caring too much makes me emotional.  This helps no one.  Being able to catch myself early and work to solve the issue instead of let someone's rude words hurt me personally.

Learned to judge less of myself and others

– I am pretty judgmental by nature.  I think it's the Chinese upbringing but I experienced a few times how that is unproductive for me or others.  Judging others demotivates.  It's more important to appreciate each person for their own level of contribution as well as live and let live.

Practiced letting go on trivial matter

– I get this one maybe 40% of the time this year.  It's still a work in progress.  I was successful at it a few times and it felt rewarding.  I learned fairness is not always the answer.   It's more important to build relationship instead of feeling like everything is fair.

Learning to listen

 to my dad or people I find hard to listen to- This is not easy as my dad means well but can come across sounding judgmental.  I learned to appreciate what he says to me without letting his words hurt my feelings.  He is also great at reminding me to listen.   I apply the same theory with others.  I am finding out new things by listening more and talking less.  As my formal boss taught me, it's important to "listen and detach" to stay cool and focus on the bigger picture.

Practiced patience –

my kids train me with this, as they can make a mess in seconds or repeat things a million times. I learned to not react harshly as they are my kids.  Yelling at them will not teach them anything and I shouldn't expect them to act like adults anyways.   In general, reacting with emotion solves nothing.

Took action in spite of fear

– act in spite of the fear of failure or embarrassment – I did a lot of this in 2013.  It was scary to not look for work after my contract ended in September and just dedicate full time to building the next level offering for this site – the Soft Skills Gym.  Every week now, I do something new and learn something different.  Launching a paid service is a new adventure.  I am glad I am taking the leap to try.  I rather fail many times and keep trying then give up or wait to be perfect

Avoided perfectionist tendencies

– perfection is a weakness.  I recognize how much time perfection sucked up without providing any meaningful value.  I avoided a few this year and plan to do more in 2014.  Practice makes perfect – ha!  pardon the pun.

Doing proactive networking

– I haven't done this in a few year. Since I am between jobs and working on my site, this is the best time to network (when I don't need it).   My networking efforts were not always successful, but nor should it be.  In addition to expanding my networking, I also made two new friends unexpectedly from business networking.  This is uncommon as I get older.  Most people are so guarded now.  Somehow we just clicked and I treasure the new friendships I have built as a result.

Improving my interpersonal skill –

learning being right is not as important as maintaining a relationship.  It's not
Career Success Blog – I did little of the actual things I planned in the beginning of 2013 for the career success blog.  This is however for good reason.  Our strategy pivoted several times and so now our focus in launching the Soft skills Gym in Jan 2014.    Here are the things I was able to start or try instead.
Collected feedback from my current readers

– very helpful.

Found two readers to volunteer their time for editing my articles

– I need to utilize them more and set up a more formal structure in 2014.

Developed the Executive Authors group

– It's time to get more people involved.  I am learning how to identify from my network who is right for the Executive Authors group and who is not.

Developed a way for Executive Author to easily contribute.

I just piloted this method with two authors with great success.  Record candid conversations and transcribe them makes it easily for busy executive to provide helpful content 🙂

Tested scenario based posts – 

got a lot more feedback and response than regular post. People like it.  Will do more of it.

Invented soft skills workouts – 

part of the Soft Skills Gym offering to allow members to practice their soft skills at work or through quiz or scenarios.

Learned some CSS and php coding

– part of going learn with this is doing a  lot myself.  My geek engineering side really enjoys this.  I am learning and it's without purpose other than to make progress.

Hired an SEO expert for an audit

– We spent $1000 and got a detailed audit although the guy disappeared after he delivered the audit which is not what we wanted.  I guess we were led on.  Still got some value.  Live and learn.  We don't make progress unless we make mistakes

Got help but didn't use it well

– Besides getting my husband involved in the marketing of this site, we also got two other people agree to help in their spare time.    We ended up not using them well enough and they found other projects.  We were in the middle of doing many strategy discussion and where to take this – a book, a forum, seminars, etc…  Without momentum, they lost interest.  That's okay.  These are the experiences we need to have to make it better when we found new volunteers.

Invested in SSL and a Membership plugin

.  In our current strategy of launching a Soft Skills Gym, we got a secured site certificate which took longer than expected and a membership plugin to manager our memberships.  It's learning process every day.
Career / Business
Decide to invest in my passion

instead of go corporate for now.  I agonized for a month on this decision and even interviewed a little.  I found my interviews a little hollow since I didn't believe in it.  I learned that I am done climbing the corporate ladder.  I still want to make a difference.  I have enough skills to get a good paying job anytime.  My focus is on making an impact at my paid job but also with this blog.

Wrote two customer experience assessment deck 

for Adroll.  Since my friend is the VP of marketing there, I did her a favor and wrote an assessment of the trial experience.

Network for a 

Product Manager job

– the hiring manager practical told me to apply but it was not the right fit.  I can do the job but I would be selling out on my passion I think.   Timing was not right either, so I passed.  I don't regret it.  It was not meant to be.

Interviewing for a customer experience job 

– I am interviewing for an interesting CE job right now.  It was a result of my networking.  I didn't plan to apply but I really clicked with the hiring manager.  My 3 criteria for a paid job are: direct customer impact, work life balance, and good rapport with boss.    So far this seems to fit the bill.  The interview process is dragging on so we will see where it takes us.  At the end of the day, I believe in meant to be.

Interviewed for a customer insights job

– We both knew within the first 15 min, it was not a good fit so we cut our losses.
Family related – new stuff on top of what we do today
Took Isabel to visit my parents in Houston

.  Isabel and my parents loved this.  It was Isabel's first time on a plane.  maybe disneyland or club med in 2014.

Took Isabel to dance and acrobat performances

– She loved it and it was blessing to be there with here

Teaching Isabel about money

– this is harder than it sounds as 5 years old has no concept, but she is learning how to earn stars which convert to money and making decision about how to spend some of her money.  progress!

Took Ice skating classes with Isabel 

– I thought I sucked at ice skating and therefore having done it for 15 years.  Well I was wrong.  I can actually skate and taking Isabel skating has been so much fun.  She is still learning.

Took Isabel and Alexis to water parks – 

their favorite is the Antioch water park.  perfect for 2-5 year olds

Transitioned Isabel to Kindergarten

– the commute is hard but the transition has been good.  Isabel is growing up so fast.

Took family to Reno for mini-vacation

– we loved it and will go back with friends.

Took a 3 weeks trip to China

– spent it with family and friend.  Reconnected with my cousins and relatives and took a trip together that helped me appreciate how creative and fun my whole family is.

Got membership to Academy of Sciences

– only ended up taking Isabel there twice with her friends.  Realizing it's too far to go since the Exploratorium opened near us

Let Isabel decide on her after school

– Mother doesn't always know best.  I learned to listen to my daughter's implied cues.  She started out liking Feitian, one of her after school program, but ended up so scared to go, she faked an illness to not go to the performance. We realized its not the right level of teaching and program for her.
New , Fun Stuff
Travelled to Puerto Vallart with hubby

– our new favorite Mexican city

Organized Diva events

– only got 3 in this year – lunch/movie, clothing exchange, and girl trip to napa to celebrate a girlfriend's engagement

Spent more on nice clothes

– this is more uncomfortable than I thought

Did end of year cleaning 

 – Only half way done.  Gave away 5 boxes worth of stuff.  I grew up poor so I tend to horde a bit.  This felt nice.  Need to do more.

Joined a flashmob at city hall  

– Against violence against women.  I love it.  It was fun and meaningful.   We danced to the song – One Billion Rising 

Started a Diva blog

 – remembering fun memories with girlfriend gatherings.

Joined wechat

– changed the entire way I stay in touch with my family and friends in China.

Reconnected with some old friends

– friends are hard to come by as we get older.  I was able to reconnect with some old friends and invest time in our friends.   I am grateful for their friendship and time this year.
Health/Fitness
Did an official 5km run 

– Finished in less than 30 min which is fast for me.  woohoo..

Completed 10 Pilate classes

– It was good but I realized it sometimes hurts my back.  I like my bikram yoga routine better.

Took 4 TRX/VIPR/traing day classes

– loved these 30 min workout that kicks my butt. Bought 25 classes to use by April

Completed a plank challenge

– work up to a 5 min plank in 30 days.  wow was that a challenges.  My arms and shoulders killed but I am glad to have done it.

Went to bed early and woke up to see sunrise 

– I was only able to do this for 10 days but it was awesome.  Gotta go back to that.  Go to bed early and wake up early to see sunrise for a week.   (I usually can't sleep until midnight)

Did 7 days of Bikram

– Go for 7 days straight.  It broke some mental barriers.  I was stiff a few days, but once I got into class, I would loosen up after 20 min.  It felt great.

Went dancing twice a month

– I want to go even more often.  Dancing is my escape for my left brain.  I go Latin dancing every other Sunday now.
I am sure I am forgetting some things I have done this year, but this is a good list already.  I am blessed to have had so many experiences in 2013.  Time may seems to have flown by but I am appreciate how much I have learned and grown this year.  Not all experiences were perfect but that exactly the point.  I just want to live the journey and learn along the way.
Happy New Year!
Lei