I know it's well into the New Year, but I am still pondering what to do differently this year to take my life to the next level.  Here is one idea I am implementing – Say Yes, when I usually say no.
I am realizing, if I want to grow in life and at work.
I need to go outside of my comfort zone
I need to do things differently than I usually do.
I need to take new chances and learn from new experiences
Why?  Because the definition of insanity is "doing the same thing over and over again and expecting different results."   Even with that understanding, many of us have a harder and harder time saying yes to new experiences.   We have so many bad concepts in our head like
"I am too set in my ways."
"You cannot teach an old dog new trick."
Bullshxx!  All that really means is
"I am too scared to try."
"What if I don't like it, fail, and/or embarrass myself?"
"I don't like to be uncomfortable."
Well, any new learning has to come from some level of discomfort and frustration.  It is part of the process of growth.   So, ask yourself, do you still want to grow in your work and life?  If the answer is yes, then you also need to say yes more often to new experiences at work and in life to get there.
There is an easy way to start today – Start saying yes, when you usually say no and just see what happens.  It doesn't have to be dramatic.   You can start small.  Here are some ideas
Get out of your routine

– change how you do things at work or with family.  Be proactive in meeting new people.

Say yes to things you are not sure about

–

 say yes at least once to something you usually say not to

.

 Maybe take that time to have lunch with a new co-worker, go to the happy hour.   These may seem like ways to slack off, but they are important for networking and building relationships.
Be bold –  Suggest new experiences for you, co-workers, or friends to experience together.  This may mean volunteer to do a presentation or plan a new weekend get away with friends.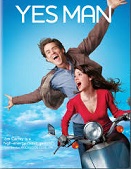 If you want more inspiration, watch this movie by Jim Carrey from 2008 called Yes Man.  He decided basically to say yes to anything and everything that anyone asks of him.  It's hilarious, bold, and have a deeper lesson for all of us who have gotten used to saying no.
I am no exception.   I am very aware of the "reasons" (really excuses) I use to say no.  Well, so far, I have made one major adjustment in this direction.  I signed up for a personal development retreat in New Orleans in mid-May.  I have been wanting to go to one of these for a few years.  Yet every year, I find perfectly good "excuses" to say no.  This year was no exception.
It's too expensive.

 The flight alone is a whopping "$800."  That alone is usually enough for me to say no as I don't believe any domestic flights should cost that much.

I don't enough vacation time

.  I have to take one day vacation to make it worthwhile

It's too far away.

 It's a 3 day trip with 4.5 hour flight each way

It's not the best time at work.  

I will be in the middle of prepping for a project launch.
This year, however, I let my "excuses" run through my head and then called "Bullshxx" on each of them.
I know I make enough to easily afford "$800" flight.

 I just wasn't sure it was worth me going to pay that much.  That's why I wanted to say no

I actually have some vacation days.

 I just wasn't sure this trip would be that fun.  We are literally staying in a hotel by the airport and having a 1.5 day workshop

I like New Orleans.

 Again, I just wasn't sure I would enjoy the trip.

It's only 1 day away from work

.  Others on my team can handle it especially since everyone will know in advance that I am gone.
I realized it was easier to say no and spend another weekend at home in my comfort zone than to give this a chance to learn something new.   Well, I chose differently this year.   I gave myself one night to decide.  After agonizing for 30 minutes, I bought my plane ticket and also found a roommate to split the hotel cost.
I am still not sure what it will be like, but I am exhilarated by this new decision.   I am looking forward to this new experience.
Your comments:  What will you start saying yes to this year?  Share your experience and comment below.
Like this post: Then help me out and share it on Facebook, Linkedin, Twitter, Google+ and by email.
Best wishes to an enjoyable life and career.
Lei