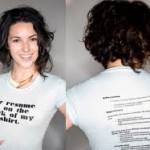 If you are a qualified candidate and are regularly overlooked, it may be for the simplest reason.  You didn't plug the right combo of buzzwords into you resume as many companies use software to screen resume before even a recruiter reads them.  While companies and the recruiting industry are realizing the pitfall of this process, you should also consider taking things into your own hands – try creating a multimedia resume to captivate recruiters and prove your qualifications and fit.
In this article, I highlight four multimedia resume techniques that are replacing the traditional resume strategies. And as a glimpse of things to come, I also look at what one college is doing using multimedia to help its graduates position themselves as competitors in the job market.
FOUR MULTIMEDIA RESUME OPTIONS
The traditional resume won't disappear completely anytime soon, there are certain guidelines that you should always follow, regardless of mode of delivery. The multimedia resume techniques described below are all marketing tools, containing marketing messages about you. The question is: Can multimedia help you stand out in the application process?  If the answer is yes, there are four multimedia channels you can tap into to accomplish this.
1. Video: Giving a Face and Voice to the Applicant
As Bruce Hurwitz of Hurwitz Strategic Staffing says, "Video can increase my confidence in a candidate's ability to successfully interview–Is she professional? Is she articulate?–or eliminate a candidate from consideration."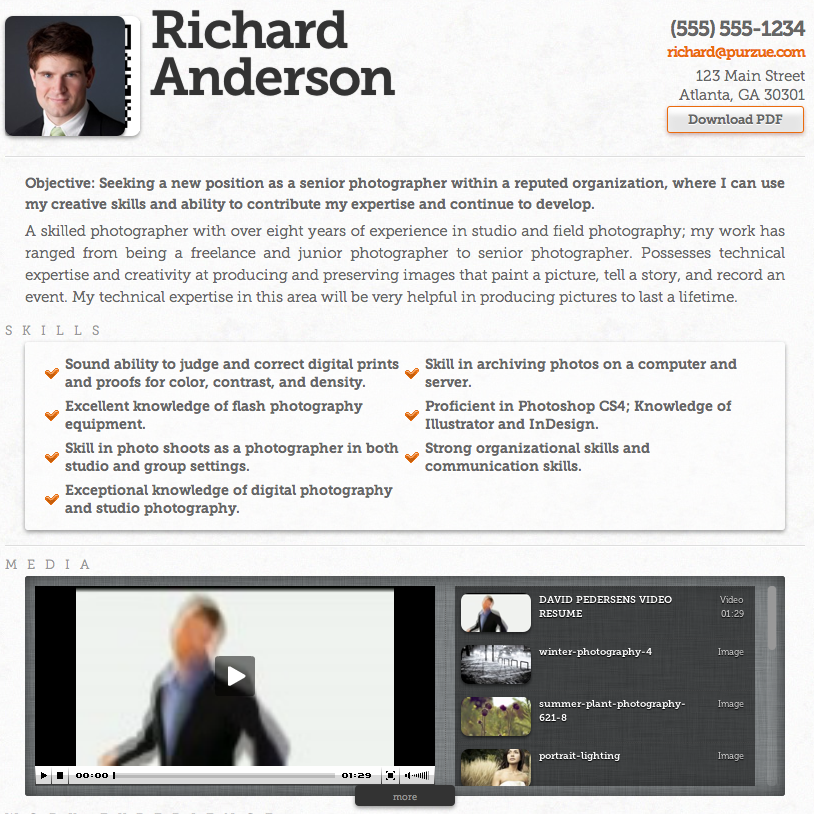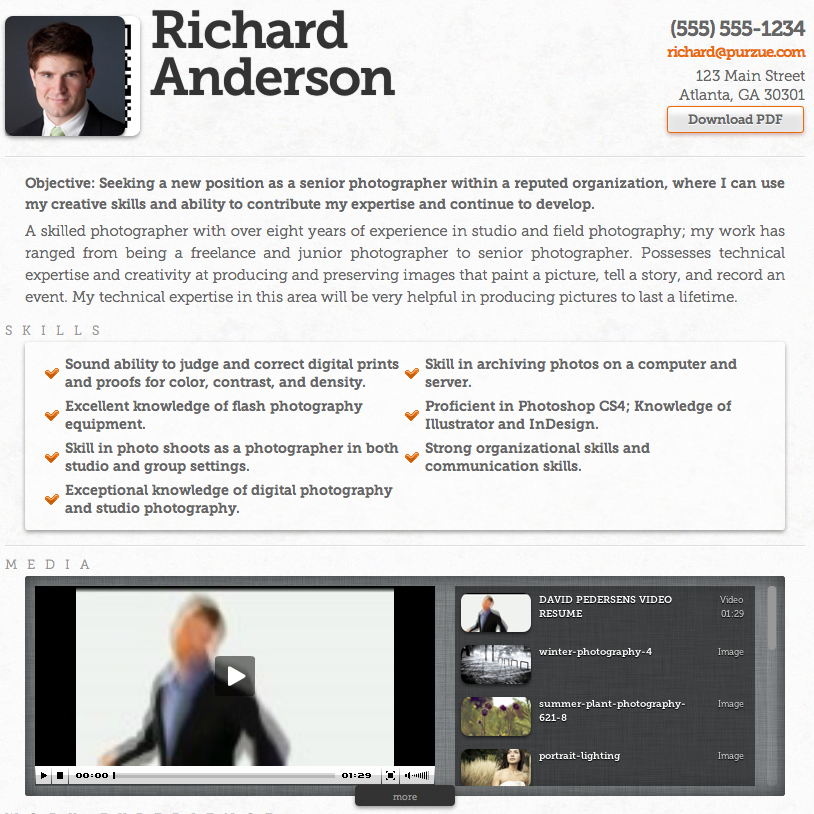 The website Purzue makes it easy for job seekers to create a profile based off of their resume, accompanied by a quick video pitch in place of a cover letter. The recruiting platform and job board GetHired goes further, with real-time interviewing capabilities and virtual screening through recorded responses. Of course, time is money, and candidates need to give recruiters a reason to keep watching. My advice: personality is great, but don't get too cute. Balance is key.
2. Infographics: Bringing Flat Resumes to Life
Breaking out of the traditional resume template isn't easy without a degree in design. But presenting a recruiter with a more visually stimulating overview of experience and qualifications can go a long way in setting a candidate apart. Thankfully, it doesn't take an Adobe Illustrator savant to turn a boring old resume into an interesting infographic.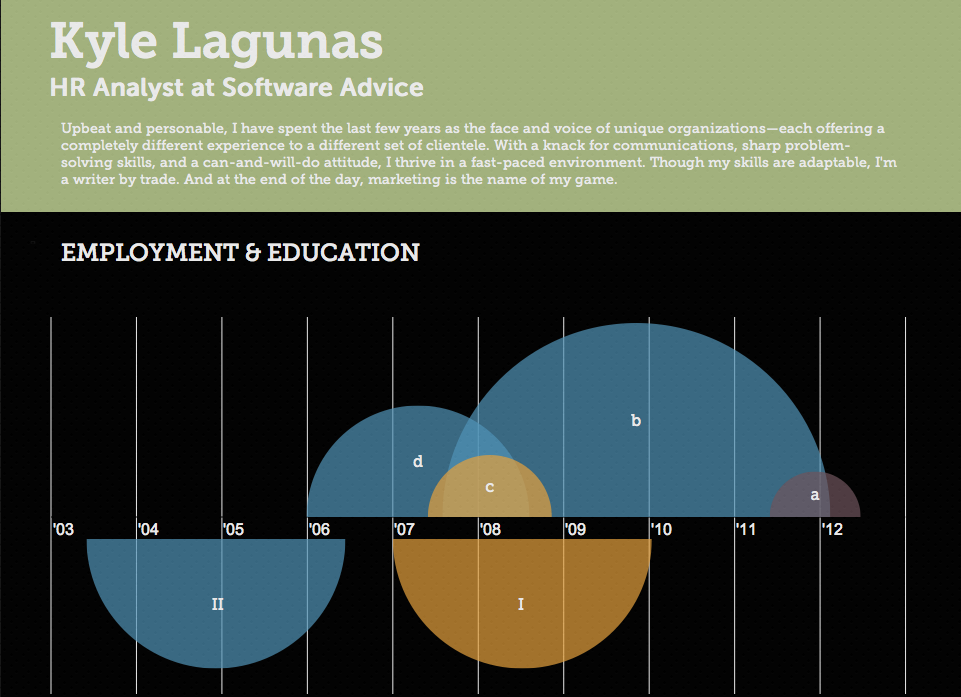 Vendors like Vizualize.me pull information from your social media profiles (LinkedIn, in this case), and lay it out in various (and customizable) formats. Not only are these easy to create, but they're easy to share across multiple channels.
3. Social Media Profiles: Providing Insights into Culture Fit
Most job seekers–okay, at least those under 50–have some kind of social media presence. It's no secret that recruiters investigate some candidates' social media profiles to obtain a more rounded picture of the individual (and yes, also to check for questionable content).
Job seekers are responding to this shift in recruiting practices by beefing up their networks (which gives a nice halo effect), expanding their professional profiles and adding recommendations on LinkedIn, driving conversations and connecting with thought leaders on Twitter, and cleaning up their Facebook profiles.
4. Blogs and Personal Sites: Showing Off
Blogs are an excellent platform for candidates to showcase their hobbies, writing and communication skills, and general interests. Think they're just for marketing candidates? Think again. Even a meat cutter at Whole Foods can run a successful butcher blog to establish expertise and share experience with an avid audience.
And who said blogs are just for writing? Techies can demonstrate their ability to build WordPress templates, too, or simply prove they know how to find and add plug-ins to build websites. And candidates for and candidates for artistic positions can showcase their portfolio of work.
IS THE MULTIMEDIA RESUME THE FUTURE?
The basic function of a resume isn't going anywhere. What's changing is how that function is executed.  To that end, many college campuses are taking it upon themselves to give the next wave of workers a competitive advantage in the job market of tomorrow.
At Ithaca College's Park School of Communications, Dean Diane Gayeski spearheaded an initiative to prepare to enter a workforce with limited work experience, and where social media engagement and a strong portfolio are a graduate's strongest ally. All freshman communications majors are required to take a six-week multimedia course in which they learn how to create and market an online repository of their work via an ePortfolio, learn best practices for using social media tools, and connect with alumni–both fresh out of school and already established in their careers. They're seeing success.
"When you're starting off in college, you're dealing with buzzwords like branding and image. It can be intimidating," says Aaron Edwards, a senior journalism major and future James Reston Reporting Fellow for The New York Times. For Edwards, however, the ePortfolio started in freshman year became a repository of his best work that was easily leveraged when he began applying for jobs and internships. Says Edwards:
"I now have a personal website, which is a little more permanent. It was great to have the portfolio as a stepping stone to something I'll use for the rest of my life."
Your comments: What successes have you had in using media to find work?  Do you think you will try any of these options above?  Please add your comments below.
Guest author: Kyle Lagunas is the HR Analyst at Software Advice, a resource for selecting a talent management or an applicant tracking system. Kyle reports on trends and best practices in HR and recruiting software—offering fresh insights into the ho-hum of people processes.
This is a Guest post. If you would like to submit a guest post to BeMyCareerCoach.com, please follow these guest post guidelines.